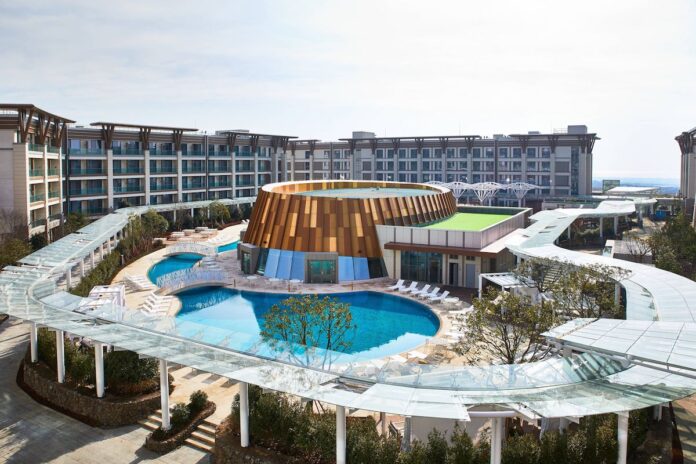 Landing International said it expects to report 2021 revenue surged 70 percent as its Jeju Shinhwa World property on South Korea's Jeju island benefited from strong domestic non-gaming demand.
In a filing with the Hong Kong Stock Exchange, Landing said that as a result it expects its consolidated net loss to narrow by between 40 percent and 60 percent. The group said it would publish its full annual results in late March.
Jeju Shinhwa World is the largest integrated resort on Jeju and boasts a wide array of non-gaming amenities, such as a theme park and water park. Locals are not permitted to gamble, but a series of marketing campaigns generated significant revenue from the domestic market for the integrated resort business, it said.
Landing also said that the improvement in its annual results had come from a drop in operating expenses due to strict cost controls and an increase in fair value of investment properties.
It said there had been a decline in its gaming business, without giving further details.
Jeju Shinhwa is one of only three casinos currently operating out of the eight present on the island. The casinos were largely reliant on Mainland Chinese visitors and as a result have been hard hit by border closures and lack of China outbound travel since the pandemic.
The local government has been mulling proposals to help its struggling casino industry, but the measures that appear to be on the table are unlikely to provide major relief, according to industry experts.
The "2nd Jeju Casino Business Plan," which is a five-year statutory plan running from 2022 to 2026, has suggested the possibility of proxy betting for the casinos, but has ruled out allowing Koreans not resident on the island access to the properties.
In 2020, gross gambling revenue plunged more than 60 percent to KRW69 billion at Jeju's casinos. Figures for 2021 are not yet available, though IGamiX Management & Consulting senior associate Felix Lee said they are not expected to have shown much improvement.
The wider tourism industry on Jeju did see significant signs of recovery in 2021 with the number of tourists crossing the 12 million mark in 2021, with 99.6 percent of tourists coming domestically.
The total number of tourists is still down approximately 20 percent from pre-pandemic numbers, with 15.3 million tourists visiting Jeju in 2019, though it is an improvement from 2020 when the number slumped to just 10.23 million.