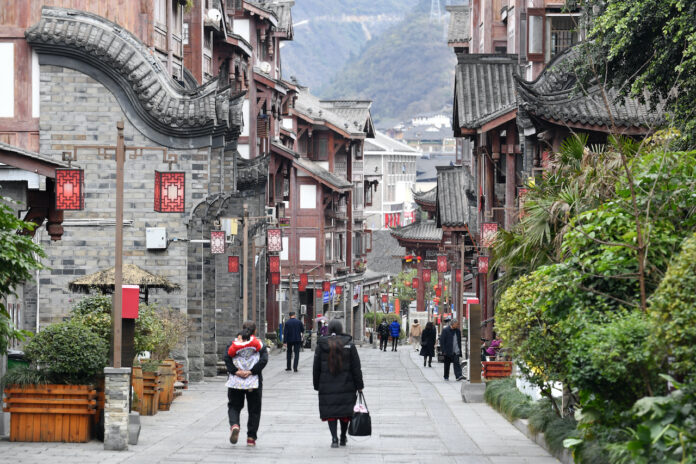 Fitch Ratings' analysis has found that Chinese travelers had less per-trip spending during the Labor Day holiday, which the market took as an indication of "weaker consumer confidence and spending power", as China's domestic tourism levels outperformed 2019.
According to a report by the rating agency, China's domestic tourist trips recovered to 119 percent of 2019 levels during the holiday, something the group expects to continue this year. "Strong pent-up demand and a slow recovery in outbound air traffic will continue to support the recovery and outperformance of China's domestic tourism industry in 2023."
Tax authorities' data show that service-led consumption during the Labor Day holiday in May increased more strongly than during the Chinese New Year holiday, led by tourism spending, which recovered to 101 percent of 2019 levels.
However, Fitch's data show that per-trip spending decreased 10 percent compared to the same period in 2019. The rating agency believes the lower per-trip spend during the Labor Day holiday could be due to: a large number of low-income travelers after years of travel restrictions, more visitors to lower-tier cities and rural areas, as well as a large share of short-distance trips due to either high hotel prices and airfares. Zooming out, the group points out that Chinese tourists' spending per domestic trip actually exceeded 1Q19 levels in 1Q23. 
Fitch analysts note that the tourism sector is less affected by uncertainty over employment and income growth than other service and retail sectors, given Chinese consumers' strong desire to travel after years of mobility restrictions. Domestic tourism also benefits from the slow recovery in outbound flights, which resulted in many people turning to travel around China.  
"We do not expect international air traffic to return to 80 percent of pre-pandemic levels until the fourth quarter of 2023, which will support the robust recovery of domestic tourism in 2023", say the analysts.
The Ministry of Culture and Tourism, from China's central government, noted that domestic travelers reach 274 million, topping 120 percent of pre-COVID levels, during the Labor Day holiday. Chinese domestic tourism revenue reached RMB148.1 billion ($21.4 billion) during the period, up by 128.9 percent yearly.
Macau saw a similar situation, with less per-capita spending in 1Q23. According to official data, total visitor spending (excluding gaming expenses) surged by 127.1 percent yearly to $1.86 billion in the first quarter of 2023, whereas per-capita spending of visitors dropped by 13.9 percent to MOP3,027 ($376).