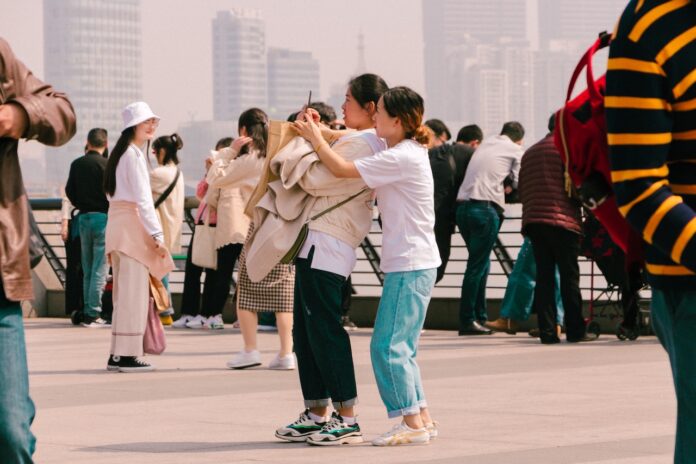 China's tourism rebounded to pre-COVID levels during the Labor Day holidays, as the Ministry of Culture and Tourism from the central government saw domestic travelers reach 274 million, topping 120 percent of pre-COVID levels.
Chinese domestic tourism revenue reached RMB148.1 billion ($21.4 billion) during the period, up by 128.9 percent yearly, recovering to 101 percent of the same period of 2019.
The conclusion was double-confirmed by Chinese Online Travel Agencies (OTA) platform. According to travel service provider Trip.com, the platform saw "strong domestic and international booking growth".
International flights during the five-day holidays recovered to around 40 percent over the same period in 2019, with searches increasing by more than 60 percent compared to 2019.
The data from Ctrip's FlightAi market insight platform show that more than 80,000 domestic flights were booked during this year's May Day holiday, with the average daily level increasing by around 15 percent compared to the same period in 2019.
The number of outbound travel bookings also skyrocketed for the holiday period. Booking volumes from mainland China to Macau, the United Arab Emirates (UAE), and the Maldives exceeded the same period in 2019.
Compared to the Chinese New Year holiday (January 21 – January 27), Ctrip's platform (booking app under Trip.com Group) data showed that flight bookings from the Chinese mainland to Southeast Asia countries during the Labor Day holiday increased by 91 percent. Flight bookings to Japan and Korea also increased by 120 percent and 204 percent, respectively. Long-distance flight bookings to Europe grew by over 40 percent as well.
Thailand, Japan, South Korea, Singapore, Malaysia, the United States, Indonesia, Vietnam, Australia, and the United Kingdom were the top 10 most-booked outbound global destinations for the Labor Day holiday, with nine out of 10 searches made by Chinese mainland travelers to these destinations surpassing the 2019 level.
"Many young post-00s travelers were stepping out of the country for the first time," notes the operator.
On the Ctrip platform, the popular cross-border destinations for first-time orders by users aged 18 to 23 were Bangkok, Singapore, Seoul, Tokyo, and Kuala Lumpur. Jane Sun, CEO of Trip.com Group, commented that "Chinese consumers have been unable to travel for an extended period, but it is clear consumers wish to explore the world again.