INSPIRE Entertainment Resort will continue to focus on the VIP market, even as all Asian gaming operators aim to get a piece of Chinese outbound tourism. The property's newly-promoted President Chen Si tells AGB that EBITDA returns are only expected within two years, but that synergy between Incheon will drive ongoing growth down the road. Meanwhile, hopes are to open soon, pending government approvals.
---
We're joined today by Chen Si, the new President of INSPIRE Entertainment Resort over in South Korea. Some very, very new exciting developments happening with you guys. I know that you're hoping to open up soon.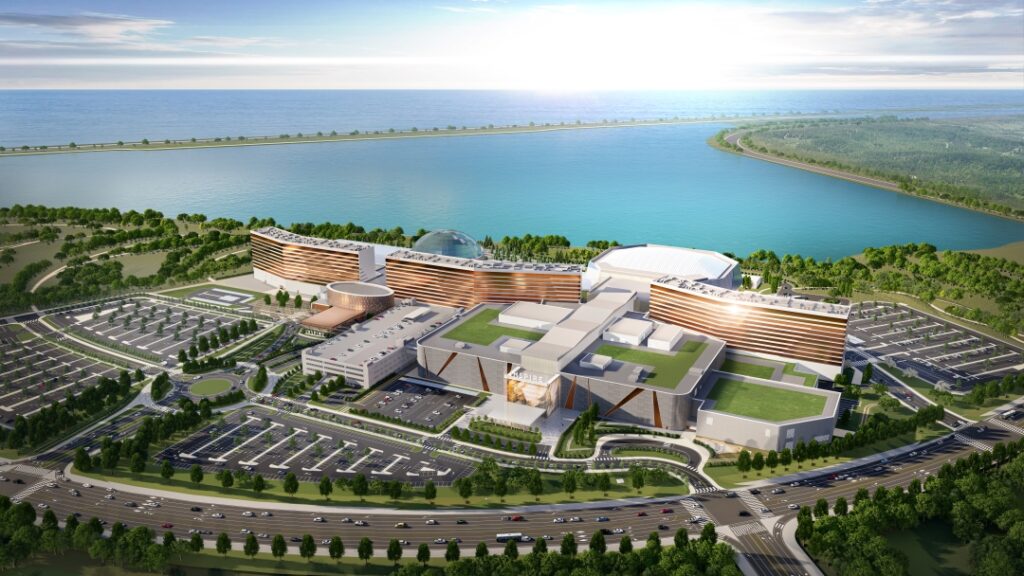 For one, congratulations on your new promotion to the role of President. I wanted to ask, have your expectations changed over the course of the property build-out? And how have you managed to work with those changing needs?
Thank you Kelsey, and it's good to be with you. We're old friends by now.
This project has been a long time coming. We started the process in 2016. So of course, a lot has changed over time. Since I've joined about a year ago, you know, I think I really joined when we were just coming out of the pandemic, right. So obviously, the expectation for the market for outbound travel was still uncertain. And then through the last 12 months, we've seen a clear uptick for the region. Actually, both domestic Korean travel, but also regional travel coming into Korea.
And we're really encouraged to see the Chinese tour visas have been opened up again, in September. And Incheon Airport's airlift has increased dramatically; they're back to about 80-90 percent of pre-pandemic levels. And we'll hit 100 percent and beyond from next year onwards.
So certainly with that overarching tourism growth, our expectations for the resort would change accordingly. And I will say that we're really hopeful and optimistic about inbound, especially from our key feeder markets, such as China and Japan and Southeast Asia.
You've had a lot of experience within Asia, and you've had a particular focus within the China market. Which parts of those have you been able to leverage the most to be able to help this property open?
Well, first of all, it's not just about me, our management team that we've assembled is world-class and, I think, unique in Korea, in the sense that: our business model is non-gaming and gaming. And we have a significant non-gaming footprint across F&B, MICE and arena – which is our bread and butter and our crown jewel, really. So, we have a very strong local management team focusing on those areas.
At the same time, we brought in a really world-class gaming team from Macau, Singapore, Australia, people who have worked at MGM, Sands, etc. So that team really is our backbone of thinking through, strategizing, and putting in the right procedures and marketing plans for driving the gaming business for us. And that's unique in Korea for our market.
I do think that in terms of segmentation, Japan has traditionally been very strong for all our friends in Korea, but we really, really want to focus not just on Japan, but throughout the Chinese premium mass business. I think that's where the future growth comes from. And that's where I think we bring some expertise from other regions where we've worked before.
I know that you haven't yet opened. But what are your expectations for the ramp-up of INSPIRE in and of itself? How soon do you think that you can be starting to see some of the EBITDA return that you're hoping for?
It's a good thing to be part of Mohegan, which is a privately-owned company, we don't have quarter-to-quarter pressure. But that being said, of course we like to deliver returns to our parent company and our other investors as well.
So I would say it will probably take at least two years for us to reach some sort of stabilized rate of EBITDA, probably even longer.
But, I think part of it is just timing of the market. I think we are, as we explained before, we are sort of riding a wave of growth in outbound tourism from China and Japan. But the risk of a foreigner-only market is that. When there's any kind of policy or macro-economic factors changing, you are impacted very quickly.
That's why we have a very big footprint in non-gaming, to make sure we still have the locals to be able to drive significant revenue from the non-gaming segments. So, that balance is, again unique in this market and that's what we're hoping for. But to answer your question, I think at least two to three years to get to a stable state.
That's a very good diversified approach. Obviously, the Chinese outbound market is basically what everybody's trying to get right now. That shift within the political sphere, let's say, so far has that affected the actual makeup of the gaming floor of INSPIRE? Because of a possible lack of Chinese outbound tourists?
Well, obviously, we haven't opened, so I will say for other operators in our market, certainly for the last year, Japan has been the dominant segment. And the number two would be actually locals with foreign passports and expats living in Korea. Those two really make up the majority of the GGR in Korea right now. But certainly since earlier this year, when you start to open up to China, and now – especially the last two months – where the groups are starting to resume, you can start to see that rebound in Chinese outbound.
And that's really, I think, the determining factor of how well we're going to do in the next couple of years, it's how fast that rebound comes into Korea. And we actually need to work together with our our competitors and the government together to drive that tourism. And the Korean government actually has published a strategic goal to drive Chinese incoming tourists starting from this year and into next year. So, I think that all very well sort of fits into our strategy of driving that segment.
It's interesting that you mentioned that you want to actually work with your competitors, because look at Macau, for example. We could have had so much synergy, just within the Cotai strip and we didn't. How do you work with your competitors to your advantage within Korea?
It's growing the market as a brand because right now – and the Korean gaming market traditionally has been really Jeju focused, and there's a certain reputation associated with Jeju. Seoul actually has been long established, but it's very segmented: it's just two casinos inside of Seoul.
So Paradise City opened in 2017, they were sort of alone, by the airport. It's a great facility, really, really beautiful hotel, a strong management team as well. But they were just alone, so when customers come to Paradise City, they have no other choice nearby in terms of amenities, but also from a casino as an alternative.
So I think when we open, certainly with Paradise City, we will complement each other, we have amenities they don't have such as the arena. They also have things that that I think our customers will enjoy, certainly F&B, certain retail and you know, art exhibitions, etc.
So it just grows Incheon as a new destination. And that's really what we're trying to do together. So when customers think about outbound travel, Incheon will get on their list. And then once it's on their list, whether it's between us and Paradise City – of course, we're hoping it's us – but realistically they'll go to both places and that's fine with us. I mean, we've seen it grow the pie bigger. So that's certainly something we want to we want to work together with, with Paradise City on.
Do you see any of the regional growth that's happening – like within the Philippines, Macau coming back on a rebound – do you see any of that having a potential impact on your growth strategy?
Yeah, so Philippines, obviously has been extremely strong. I do think that if you are targeting the Japanese and Chinese market, Japan customers really are very Korean friendly. So the Philippines is not really on top of their list, even Macau. They do like Singapore, but it's really far.
So I don't think the Philippines, Macau or Singapore are really a huge threat on the Japanese market. That's more of a competition within the Korean operators.
On Chinese, everybody goes after them. So, I think our advantage would be: one – on the mass mass and with a lot of mass tourists, or non-gaming -entric tourists who just want to be in Korea. And how do we attract them to stop by the resort for a day or two on their way in/on their way out into Seoul. But also actually on the very high end, which I think is interesting. That's something I kind of realized recently as well that, after the regulation change in Macau on junkets, that a lot of the agents are moving outside of Macau.
And right now they're operating primarily in the Philippines and Vietnam. But certainly Korea has the potential to take some of that share, just given the attractiveness of the destination to the players. And also just it's a fairly regulated market, there's world-class compliance, regulation, and operations as well. So it's just a safe place to to operate. So I think actually, on both ends, there's some opportunities, especially out of China.
So how progressive are your talks with junket operators, basically, who are looking to set up shop within INSPIRE?
Pretty aggressive. We've talked to everybody and, as you know, I used to work in that space in Macau. So, it's a very small network. So I will say that we've had extensive talks. But we're still a few months away from opening the casino, so we're not quite there in terms of determining who we'll work with and getting the contracts done. But certainly, I think it has crystallized for us that that is a segment we want to participate in.
Do you already have a division of how much you want VIP play to be your junket play to be based upon your overall GGR?
Well, we have some budget guidelines for next year, for sure. But I would say that, primarily, we still want to focus on mass/premium mass, just like everybody else. That's where the margin is. The junkets do provide a good chunk of GGR, and obviously help spread out the fixed costs, especially for a new project where we have a lot of capital investment up front that we need to pay back. But the strategic focus is always going to be mass and premium mass.
Looking at the other operators within Korea, what do you see as being your primary competitor?
Probably Paradise City. I just think because of the geographic location similarities. And I will say they're probably the best operator in Korea. So they'll be the benchmark for us to reach and hopefully outperform.
From a gaming perspective, really, if you think about our segmentation, on the Chinese market, we're competing with everybody. So it's not just Paradise City, that's much more of a regional play. So, of course, we have our advantages: being in Korea, being associated with culture and music – K-Pop, our arena – are still the unique features we have. But the pool is really the same pool. It's outbound Chinese tourists.
That's one of the major, let's say, roadblocks that everybody is trying to face right now. What other potential problems do you see in the opening up for INSPIRE? You're getting there, obviously, you can open the non-gaming first, and then the casino a couple of months later? What is the the potential things that could be stopping you in the meantime? Or what are you trying to overcome?
Well, as every project of this scale and size, there are a lot of regulatory requirements in terms of permits – from safety, to operating licenses and permits. And we're going through that as we speak right now. So those are things that need to be worked out. And we really appreciate the Korean government's support the various agencies we work with on these permits. And it's a lot of work. But I will say we're gonna get there, it just takes a ton of work. And that's always sort of the last hurdle of any project: finishing the building, then getting the permits and the approvals to operate it. I think that's what we're focusing on right now.
Once we open, I think it's really just making sure we open well and establish a brand that resonates with our customers, both domestically and internationally. But that's more of an operational thing. And I do think we have the hardware, we need to build the right team and we need to build the right culture. And that's what I'm focusing on. We're a new company, so we do have that opportunity. And something I treasure very much for myself is the opportunity to build a culture of this company to something that people enjoy working at, and that translates into customer experience and obviously the bottom line eventually.
A major part of that is also the partnerships that you have with these other companies, you know, these hotel companies in particular, how are the partnerships going? Have you already cemented all of the partnerships that you want for INSPIRE?
Well, there are a variety of partnerships we work with and are still building – across a variety of business lines.
For hotel, yes, so Hanwha Hotel & Resorts is our hotel management company. And we've been working closely for the last year on establishing service standards, amenities etc. And they're obviously our construction partner as well. So Hanwha and us, our fates are tied very closely.
But on entertainment, we work with all the major labels in Korea, all the well-known labels. And we're planning out the schedule, in terms of concerts for the next few months. And we have a pretty good lineup already, and that I will be very excited to share when the time comes, once we can open.
There are a variety of other partnerships in F&B. We have a very strong partnership with a company called CRG, based in Chicago, and they have many top restaurants in the US, and we're opening four restaurants with them, including the Michael Jordan Steakhouse – which is their signature restaurant, and we actually have one in our Connecticut flagship property that's done extremely well. So we're excited to bring them over to Korea.
And other business lines as well. For MICE we have partners we work with, and OTAs on the room. So it's all around, but I will say we're continuing to explore these partnerships, to enhance our service experience for customers. There's a lot more to come. And we'll have some surprises that we'll announce in the next few months too.
Do you think that being an American brand has actually helped to get that public, especially for the non-gaming aspect of what INSPIRE is doing?
Yes, I think so. I definitely think that as an American company in Korea, we are really well looked after and everybody's been very supportive. And we are one of the largest foreign direct investments in Korea, period. So we do get a lot of attention. And the agencies have been very supportive.
Now, it's a very regulated market. So everything is done by the books. But I think in terms of making sure that we have the right resources, and we have the right teams to help us, we really appreciate that from the Korean government.
But on the product side, I think, for sure we're bringing that entertainment experience that is probably actually rooted in the K-Pop culture, which is Korean, but in terms of programming it, packaging it, and selling it together with the other experiences a resort that's new to this market.
So the entertainment product itself is Korean, but the way we sell it, it's much more of an integrated nature. It's more like Las Vegas. I would say we're bringing that Vegas operating model to Korea but with Korean content. So it's almost like a kimchi taco: it's kimchi in the taco, but it's a taco.
So I would say, you know, that's something we're very excited to learn ourselves as well. But we do believe that's going to resonate.
But in things like the CRG partnership, bringing a brand like Michael Jordan, and as an American company, it's a very natural thing for us to introduce to this market. So those are, I think, the type of things that I think do resonate.
But we're very aware that we're in Korea. So, in our service models, we know our customers from a headcount perspective, the majority will be Koreans. And so we want to make sure that we, one: respect the culture, but two: enhance – bring elements but really focus on providing that Korean service culture targeting the locals. And that's who our main customer is.
Well, it's a very high standard to be rising up to always and I expect that INSPIRE will be doing a very good job of it. I have to ask you one last question. When are you opening?
I don't know. So the answer is: as soon as the government gives us all the approvals and permits, which hopefully is very, very soon. So we're going through that process right now.
And then you mentioned you've got about three months from the initial opening until the casino opening. Is that still the timetable that you're looking at?
It is. Sometime in Q1 next year we will open the casino. And there is a phased approach to the other amenities that we're opening next year as well. It's such a big footprint. So we'll get some of the core elements open as soon as we can. And then the casino and some of the other. I will say tentative spaces, who are signature tenants that need a little bit longer time in terms of fit-out and programming etc. That we'll come on in Q1 next year.
Can you give me a little bit more of just a breakdown on that timetable? So what is going to open first? What can we see first and then progressing into Q1?
Yeah, I think for sure the hotel, the F&B, our own F&B, some retail, our arena and Convention Center for MICE will be the first phase. Retail will come online gradually, just depending on tenants' fit-out schedule, whenever they finish, they can open. And then the casino.
And we have a few other signature tenants that I'll keep as a secret for now. They will come in Q1. So we're very excited. And there's some partnerships in there as well that I intentionally did not name because we want to make sure when we announce them, they're gonna make a splash.
Well, we're here for the next announcement. Whenever you want to, let us know. Thank you again for your time. Chen Si, the new President of INSPIRE Entertainment Resort. Thanks for your time.
Thank you Kelsey.