American gaming group Mohegan is eagerly awaiting its first venture into Asia: the multi-billion-dollar INSPIRE integrated resort, located in Incheon, South Korea. But gaming veteran Ben Lee points out that the property, set to open in the fourth quarter, could be facing more turbulence than it's expecting, and not just due to backdrafts from the nearby airport.
"It's a plane spotter's paradise" notes the gaming veteran, opining that the property's location on the back side of Incheon's airport puts it at a serious disadvantage compared to long-established operator Paradise, which faces the airport, requiring a long drive around the tarmac, and effectively isolating INSPIRE from nearby amenities.
"They have to totally create an end destination where people go there and don't want to leave," notes the IGamiX Managing Partner.
The group must also come to terms with the general shift in VIP gaming play, as it was envisioned amongst a scenario before China chose to crack down on outbound players: putting a vice on VIP play across Asia (and further abroad), swamping forecasts for casino operators post-COVID.
The site's location, over an hour from Seoul, also puts it at a disadvantage to already established casino properties in the nation's capital, as punters (or their entourage) still want to hit the hotspots – from Gangnam to Myeongdong.
K-Pop opportunity
One major aspect Mohegan is seeking to leverage is its experience in events, with a 15,000-seat arena focused on driving the non-gaming clients to the property.
"That's what they should be aiming for. You can't have BlackPink all the time but the second tier and third tier K-Pop groups were doing road shows around Thailand, Cambodia, Vietnam before COVID. Give them a brand-new venue in Korea, this will attract the diversified market they need," notes Lee.
And non-gaming will be key in how the group ramps up, but by no means can mimic the success of Las Vegas.
"There is nowhere in Asia where non-gaming has succeeded (to the level of Las Vegas)," notes Lee. "In Singapore it's about 15 to 17 percent, and that's with a huge theme park, MICE convention building, huge retail shop and a duopoly," notes the expert.
"There's only one Vegas," furthers Lee.
Learning the market
The growing pains of American companies moving into Asia were highlighted in Macau's growth, with successive attempts to mimic something that could not be recreated, especially given a vastly different clientele.
And INSPIRE could face the same path to improvement, as management learns the ropes of a new paradigm.
So how long could it take Mohegan to grow its Asian roots?
"Five years. It took Sands much longer than that, but I'd say five years depending on how dogmatic they are," opines Lee.
The timeframe for the multi-billion-dollar resort's cementing in the environment also puts its refined strategy implementation in a similar focus point as the debut of MGM's Osaka IR, set to open in 2030, causing a large threat to its clientele.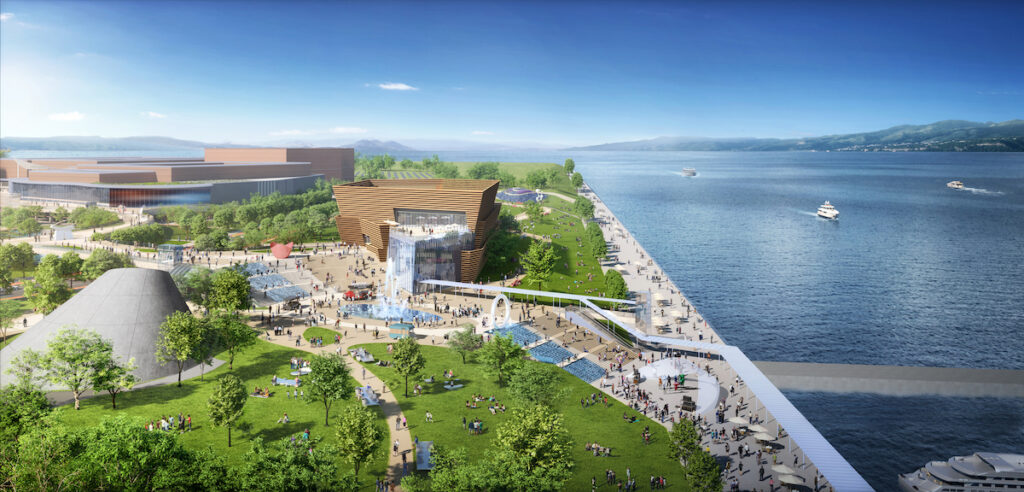 "Osaka, the city itself, is probably close to being Japan's number one tourism destination other than Tokyo," notes the IGamiX Managing Partner.
And given the unlikely opening of Chinese policies towards outbound gamblers, South Korea will still be dependent on Japanese clientele, in particular since only one company in the country (Kangwon Land) – controlled by the government – is the only one to allow locals to gamble, a situation which is highly unlikely to change.
Foreigners only?
But there's one caveat in the whole scenario, a loophole which casino operators in Seoul, in particular, have been exploiting to try and get that domestic market which is the lifeblood of casino operators worldwide.
"The law has been bent," notes Lee, pointing out that Korean nationals with foreign residencies are actually allowed into select casinos in Seoul, causing casino floors to look distinctly more Korean than Chinese.
"Now, will they travel to Incheon, to INSPIRE?" asks Lee about the local foreign-residency-holders. "They may go and have a look. But, after the first couple of visits, at the end of the day convenience comes back into play. They'll go back to their local watering hole".
With the opening of non-gaming amenities this October, and the casino within three months, under the leadership of INSPIRE's new President Chen Si all eyes are on how the property can turn its potential hindrances into successes; and whether the American-led company can stand to compete with Korea's long-established gaming operators.