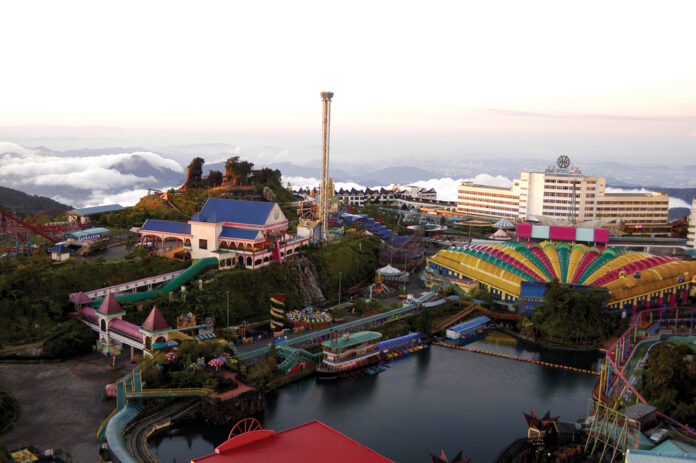 Genting Malaysia (GENM MK) share prices are likely to see an improvement from the present-day price of 2.92 Malaysian Ringgit (~$0.66) to 3.27 MYR ($0.73), brokerage note from Maybank Investment Bank read.
The brokerage is bullish on the increase in the number of daily visitors which has increased significantly from 2.6k visitors daily in Feb-Mar 2022 to 3k-4k visitors daily from Apr 2022 onwards.
Overriding Omicron
Gaming is back on an upswing with traffic returning after the Omicron wave in 1Q22.
RWG is buzzing once again post-Covid, mainly because gaming traffic has returned after the Omicron wave in 1Q22 which is expected to set the stage for a better 2Q22 in terms of earnings, the report read.
"From 8 Feb 2022 to 31 Mar 2022, Genting SkyWorlds (GS) welcomed 2.6k visitors daily.  From 1 Apr 2022 till today, GS welcomed slightly higher 3k-4k visitors daily or only about half of our expectations," the report read.
Asian operations of the company are one of the key contributors to the revenue matrix of Genting Malaysia.
Non-members have been allowed to enter the casino since pre-Chinese New Year (1 Feb 2022) and social distancing requirements have been eased since Malaysia reached the endemic stage on 1 Apr 2022.
Genting Malaysia owns and operates Resorts World Genting, the only integrated resort in Malaysia. Also owns casinos in the Egypt, UK, US and Bahamas.
Growth challenges
Resort World Genting (RWG) operations has taken hit due to Labor shortage saturation in Malaysia presenting a hindrance to the property's recovery to the pre-covid levels.    
However Indonesia has agreed to lift its ban on sending its citizens to Malaysia to work from 1 Aug 2022 which is expected to ease the labour shortage, the brokerage report said.
Whereas Genting SkyWorlds (GS) is taking time to ramp up.
"Genting SkyWorlds (GS) is taking time to ramp up while other Resorts World Genting (RWG) operations are being limited by labour," the brokerage report read.
Financials to improve
Anticipating the slow and steady growth in routine business operations, the brokerage maintains a more sanguine view.
Earnings per share for Genting Malaysia has been revised by the brokerage to 30 percent plus for FY22, whereas 7 percent plus for FY23 and FY24.
The financial matrix remains attractive for FY23 and FY24, the brokerage report read.
EBITDA wise, Maybank advocates forecast FY22 EBITDA to recover by 349% YoY..
The FY23 EBITDA forecast is expected to benefit from RWG's Genting SkyWorlds theme park ramp-up and the brokerage anticipates 42% YoY growth in FY23 EBITDA.
Maybank forecasts FY24E EBITDA to grow by 3% YoY as the COVID-19 pandemic fully subsides.
Integrated Tourism Plan
Fueling the anticipated growth trajectories for Resorts World Genting (RWG) is the expansion via the Genting Integrated Tourism Plan (GITP), which is aimed to attract higher visitor arrivals to RWG – the purpose of the GITP is to attract more high margin mass market gamblers.
VIP gamblers and mass market mix is expected to impact the growth parameters of GEM because tilt towards the mass market will expand margins due to less commissions and rebates.
RWG has poached some experienced theme park staff from Sunway Lagoon, part of the Sunway Group to ensure better operations at Genting SkyWorlds.
Three more rides will be added at Genting SkyWorlds this year, bringing the total number of rides to 18 by year's end.
GENM also stated that it introduced a 'rainy day guarantee' which allows for a free return within 12 months from a visit to GS marred by rain, which has been much welcomed, the brokerage report states.
Stable improvement
International businesses of GENM are recovering faster than RWG, Maybank notes.
Its international businesses' earnings have recovered to pre-Covid levels from a combination of revenues returning to or close to pre-Covid levels and fewer staff.
Barring a full blown global recession, GENM expects its international businesses to be stable going forward.
Overall GENM envisages slow and steady recovery post-covid across its global operations with RGW to remain the anchor.
GENM shares 52 week high touched 3.28 MYR and 52 week low was at 2.68 MYR per share