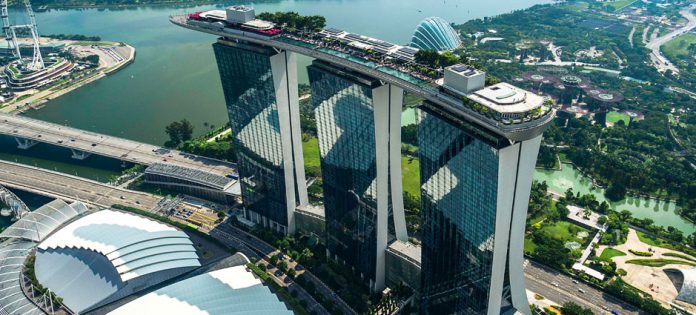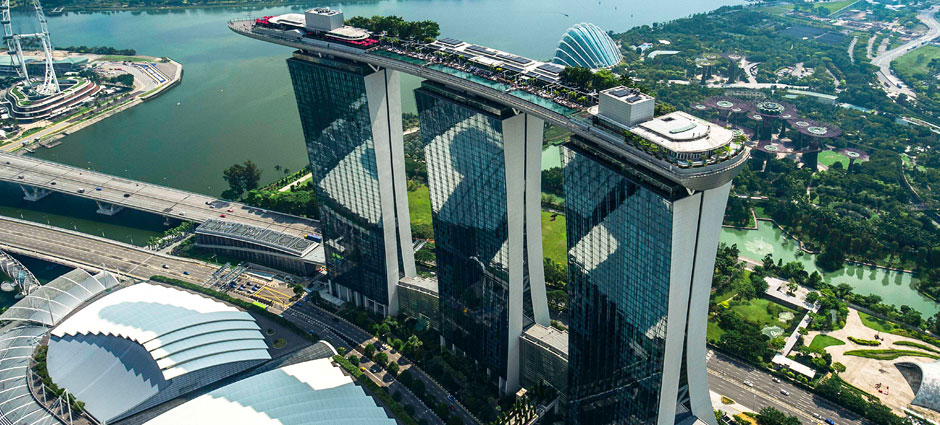 Las Vegas Sands stock was up more than 4 percent on Thursday after the company's Singapore property reported results that significantly exceeded analysts' expectations. 
Analysts noted that adjusted EBITDA at Marina Bay Sands for the quarter of $319 million was more than management had expected driven by tourists from neighbouring countries and local residents.
"Management noted that players from Indonesia and Malaysia had been strong and have offset some of the softness from key airlift markets such as Korea, Japan and China," Deutsche Bank's Carlos Santarelli and Steven Pizzella noted.
Compared with pre-Covid levels, MBS had recovered to 80 percent of pre-Covid levels for gross gambling revenue on mass market tables, while mass table volumes were 95 percent of their 2019 levels. The slot handle was up 11 percent, while VIP volumes were 25 percent below their prior levels.
Management indicated on the 1Q22 conference call earlier this year that they expected MBS to hit a run rate of $1 billion this year, though analysts noted that based on the current performance that rate would be exceeded and would be closer to $1.2 billion.
"While MBS will not get back to pre-COVID levels until China international travel resumes, the demand in Asia is clear," wrote Bernstein analysts, led by Vitaly Umansky. "The recovery seen in Singapore is a good indication of Asia gaming demand and the crossover into Macau is clear once borders reopen with China."
Singapore lifted most restrictions for vaccinated travelers from April 1st and passenger volumes have been improving, with Changi airport seeing volumes return to 35 percent of their pre-Covid levels in April and 46 percent in May. Singapore tourism authorities have indicated that they expect a further acceleration into the second half as the island hosts international events such as the Formula One Grand Prix.
"As such, there is still considerable upside remaining as passenger volumes improve back to 2019 levels," Deutsche Bank said.
Executives on the conference call also gave an update on expansion plans in Singapore, with a $1 billion renovation of its hotel towers scheduled for completion by the end of next year. About $825 million still remains to be spent on the project to renovate the property and add hotel suites.
A larger S$4.5 billion ($3.3 billion) expansion project that will add more non-gaming space and expand the size of the casino is "tentatively" on schedule for 2026, with construction to begin next year.
In April, the company was given an extra year before construction needs to commence. The tourism authority has already warned that it expects the expansion plans, which were announced in 2019, to be delayed due to Covid disruptions. 
"Though both the timing and the $3.3 billion budget, of which $1 billion has been spent on the land premium, remain likely to change," Deutsche Bank adds.
The group's Sands China unit posted an EBITDA loss of $110 million, which was better than consensus of a loss of $131 million.
Las Vegas Sands announced a net loss of $290 million for the last three-month period to June 30. This was a significant increase on the $192 million loss reported during the same period in 2021.
"While pandemic-related restrictions continued to impact our financial results this quarter, we were pleased to see the recovery in Singapore accelerate during the quarter, with Marina Bay Sands delivering US$319 million in Adjusted Property EBITDA," Chairman and CEO Rob Goldstein said.
"We remain enthusiastic about the opportunity to welcome more guests back to our properties as greater volumes of visitors are eventually able to travel to both Singapore and Macau. We also remain steadfast in our commitment to supporting our team members and to helping those in need in each of our local communities as they recover from the impact of the pandemic."