Macau gross gambling revenue is beginning to show signs of recovery following the latest round of lockdowns, though it's now clear the city won't reach anywhere near the levels that had been expected at the beginning of the year.
The government's insistence on a zero-tolerance policy, coupled with a continuing low rate of vaccination also means any rebound is vulnerable to new outbreaks.
While the situation has normalized in Macau, China is continuing to battle Covid clusters in some of its cities, although so far none have affected Guangdong, Macau's largest feeder market.
Morgan Stanley is expecting the six operators to have posted an industry-wide EBITDA loss of $23 million in 3Q21, while Bloomberg predicts it will have been the worst quarter of the year so far due to the disruptions in August and September.
The loss figure would be a 108 percent decline from the prior quarter.
A bigger decline in the higher-margin mass market business may have tipped the operators into the red, the firm said. It estimates that industrywide, mass revenue may have dropped by 28 percent from 2Q21 to $1.7 billion, which would be 31 percent of 2019 levels. It says mass revenue needs to be at 35 percent of where it was prior to the pandemic for the operators to remain profitable.
VIP revenue was likely down 23 percent to $0.6 billion.
Visitation was crushed in August after Macau recorded its first Covid cases in more than 500 days. It was beginning to improve into September when a second outbreak triggered a new round of travel restrictions heading into the Golden Week holidays. Chinese visitation in 3Q21 was down 18 percent quarter-on-quarter, with the occupancy rate for five-star hotels at 47 percent in July and August.
Morgan Stanley says its view is below the consensus estimates of eight analysts for a quarterly decline in EBITDA of just 50 percent, which it says is "overly optimistic."
"We expect a further 40-50 percent drop in 2021 EBITDA estimates due to recent Covid outbreaks," it said. "Over 2022 GGR and mass revenue expectation is 61 percent and 77 percent of 2019 levels respectively."
On a company specific basis, Morgan Stanley says it expects Galaxy Entertainment to be the only operator with positive free cash flow in the period. However, it also said Sands China is likely to decline less than the peer average.
Both of these two operators are helped by a sizable retail rental segment.
Sands China posted total net revenues of $611 million for the quarter, compared to $167 million in the third quarter of 2020. The net loss was $423 million, compared to $562 million in the third quarter of 2020 and $166 million in 2Q21.
"Local Covid-19 flare ups driven by the Delta variant and the government's proposal to tighten its grip over gaming companies have combined to make the third quarter one of the most volatile since the virus first battered Macau's tourism-reliant industry," Bloomberg analysts wrote in a report.
The struggles in the gaming sector are feeding through into the economy and the Macau government's budget. Revenue from gaming taxes has reached only 54.5 percent of the government's budget forecast in the nine months through to the end of September.
Gaming revenue came to MOP27.2 billion, compared with a projection of MOP50.0 billion and only marginally higher than the MOP23.4 billion recorded in the same period last year.
Revenue from the six gaming operators is by far the largest contributor to Macau's tax base, accounting for 70 percent of the total in the latest period.
The International Monetary Fund (IMF) has significantly downgraded its forecast for Macau's gross domestic product growth in 2021 to 20.4 percent.
In its latest World Economic Outlook, the fund said it is also expecting consumer price deflation of -0.3 percent this year. In its prior forecast in April, the IMF had expected the economy to rebound by 61 percent this year.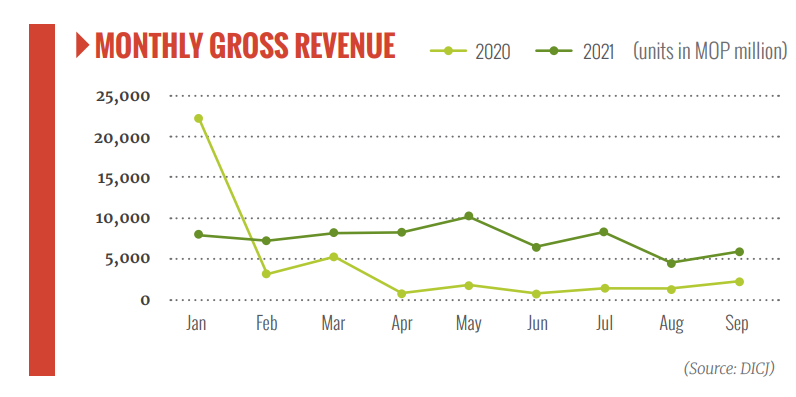 ---
Sands CEO says no chance of license not being renewed
Las Vegas Sands CEO Rob Goldstein says he sees "no chance whatsoever" of the company not being given another gaming license in the concession renewals and said the company is ready and willing to invest more in Macau. China's clampdown this year on sectors ranging from technology to private education, coupled with proposed amendments to Macau's gaming law have spooked investors and raised questions over just what Beijing might be prepared to do. "I do not. I see no chance of that whatsoever," he said when asked if there is a chance of the company losing its license.
"We've been doing this for a couple of decades, we have an unparalleled track record." Goldstein pointed to Sheldon Adelson's vision for the Cotai Strip and the $15 billion the company has invested in developing its Macau assets. "So I remain beyond confident that we'll be operating in Macau. I don't think there's any chance whatsoever that we wouldn't be."
---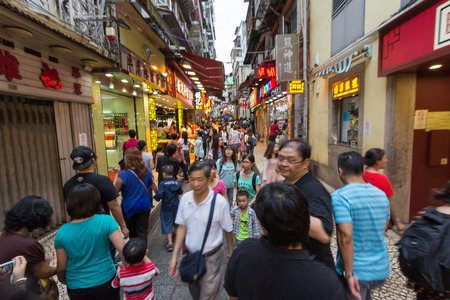 Budget hotel law to come into effect in 2022
A new law aimed at creating more affordable hotel accommodation in Macau is set to come into effect on January 1st, 2022, according to a press release from the MGTO, which held a number of online introduction seminars about the new law. The Law No. 8/2021 on the Operation of Hotel Establishments was first proposed in the Legislative Assembly some two years ago.
It's main feature is the introduction of budget and low-cost accommodation in Macau – as part of the city's goals of diversifying its tourism base. Under the law, there will be a new category of economic accommodation establishments, which allows for shared rooms and the offering of bed rentals. "These new measures will support development of more diverse lodgings for travellers," said the MGTO.