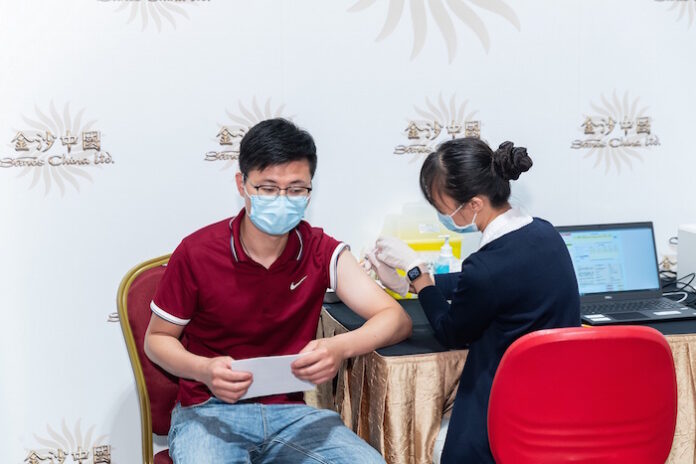 Macau health authorities have confirmed they will maintain a "zero-covid" policy until vaccination rates in the city reach 80 to 90 percent.
"Some countries or regions already have changed to a policy of learning how to co-exist with the virus. We have researched this issue, everyone in the world wants to learn how to live with the virus. However, we have to assure that serious or life-threatening infections can happen […] We don't want a high mortality rate in elderly residents," Novel Coronavirus Response and Coordination Centre Coordinator Dr. Leong Iek Hou was cited as saying by local media.
"Therefore in order to co-exist with the virus, we need to have a high inoculation rate. Many countries and regions that have adopted this policy already have vaccination rates above 80 or 90 per cent or have most of their elderly population vaccinated."
Macau only has 54 percent of its residents fully vaccinated, with the lowest rates amongst the elderly population. 
Authorities have just completed a third round of mass testing in two months, with no new cases having been discovered. However, about half of the city's residents are living under severe restrictions in areas designated as either "red" or "yellow" zones.
In addition, thousands of people remain confined in quarantine hotels, with workers in key positions in the buildings also required to remain onsite at the employers expense.
High risk functions range from the reception staff, security guards, garbage collectors and technicians who have to enter rooms for quarantines to make repairs.
In addition, after finishing their shifts, the workers must remain isolated for another three or seven days and will not be able to cross the border into Zhuhai immediately.
According to local sources, the measures are causing concern amongst the designated quarantine hotels as being two stringent and unworkable.
Macau's latest Covid scare began on Sept. 18, with a resident returning from Turkey, who infected security working in the quarantine hotel where the man was staying.
The cases triggered an immediate round of travel restrictions just ahead of the October Golden Week holidays, which had been expected to boost gross gambling revenue.
Tourism authorities had expected 35,000 guests a day, with hotels at 80 percent occupancy.