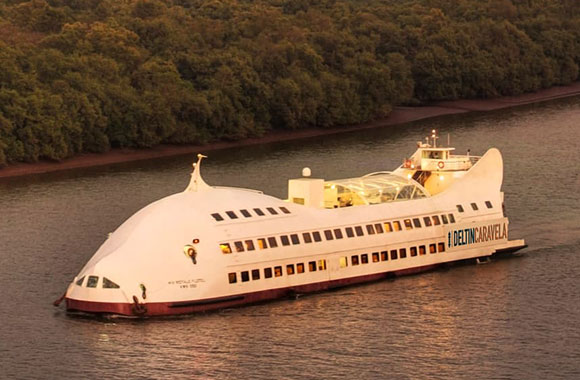 Delta Corp's new Goa casino boat, which is being built to replace the Deltin Caravela, will increase capacity by 2.5 times, according to Chief Financial Officer Hardik Dhebar.
The company recently reported record quarterly figures due to a surge in pent-up demand after restrictions were lifted in the state and Dhebar told BloombergQuint in an interview that he expects to be able to maintain momentum.
"In a blue-sky scenario there is a lot of room for growth," he said.
India has always been a top destination for Indian travellers and border closures have increased its popularity. However, Dhebar said of the 10 to 12 million annual visitors to the seaside destination annually, only about 2 million visiting the casinos, leaving a large untapped audience.
He said that the new boat will increase capacity, which has become an issue at peak times, with managers having to close access to comply with Covid restrictions.
He also said that Covid had changed some of the visitation patterns as people were coming earlier in the day due to the mandated earlier closures. He was optimistic that this may be helping to change the culture to a more 24-hour style of gaming seen in casinos in Macau and Singapore.
While the casino has been open for 25 hours a day, in reality it's only operating for about 50 percent of the time due to people coming in after 7.30 pm.
The company is also planning an initial public offering for its online unit, which is targeted for the first or second quarter of the financial year, which in India starts on April 1st.
Some of the cash will be used to expand Gaussian Networks, which runs the Adda52 online poker site. Dhebar said online poker is a niche market and the company plans to introduce a multi-gaming platform to offer other skill games, such as rummy and fantasy sports. Those games will reach a wider mass market, he said.
The company, which runs three floating casinos in Goa, a property in Sikkim and another in Nepal, said net revenue for the quarter to end December was 247.2 crore, up from 120.8 crore in the same quarter a year earlier.
Total income from gaming operations came in at 249.6 core, compared with 97.5 crores the year prior, while income from the online business was lower at 35.7 crore from 40.45 crore.
It posted a profit attributable to owners of the company of 70.38 crore up from just 1.28 crore in 2020. Dhebar said the revenue and EBITDA metrics were at record levels and he does not expect the new restrictions in place that limit capacity to 50 percent to be a major impediment to growth for long.
The restrictions have been in place since late December. Dhebar said there are already signs the situation is stabilizing in India.
The company is also planning to build a major integrated resort in Pernem, although those plans have been stalled due to opposition from local politicians.