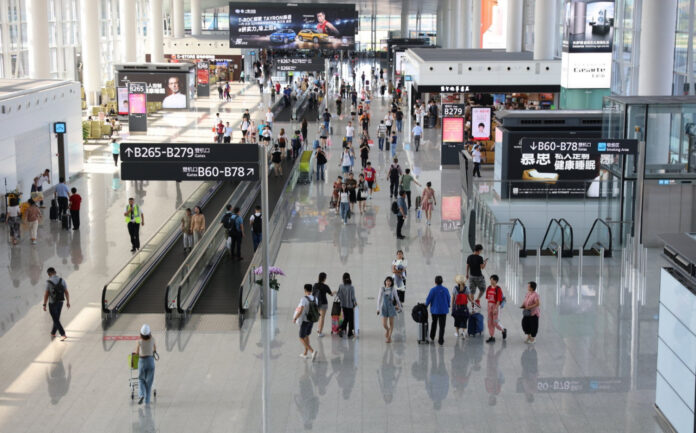 The complete recovery of airport traffic in China to 2019 levels might only happen by the end of 2024, suggests Fitch Ratings.
Based on the latest projections, the research team from Fitch believes that airport traffic in China will continue to uptick in growth through 2023 and move the industry closer to its normalized level. "The recovery pace will, however, hinge more on the traffic profile, along with individual factors of each airport."
In its first China quarterly airport traffic monitor report, Fitch Ratings says that the opening up of Chinese aviation markets after the dismantling of COVID restrictions has created "an upsurge in demand," boosting passenger traffic significantly in 1Q23.
"Figures showed an almost tripling in air passenger traffic in 1Q23, against 4Q22, recovering to 80 percent of the 2019 average level, due largely to strong domestic passenger rebound. Even so, uncertainty remains on the path to full recovery, with economic challenges and potential shift in customer behavior pattern," wrote Zoey Wang and Sunny Huang in a report issued on Monday, citing proprietary research and other data.
Traffic on domestic routes rose 114 percent in January from December. The upward trend continued but moderated into the tail end of 1Q23. Still, the recovery in international traffic is more "tepid and lags behind the domestic surge". Overseas routes have yet to fully recommence, with the report also indicating that only 2.24 million international passengers were carried in 1Q23, 12 percent of 2019 levels. 
Nevertheless, analysts expect the pent-up demand for travel and gradual opening up of borders will propel a more substantial recovery in the international passenger market in the medium term despite the current subdued performance. 
Macau's Chief Executive confirmed in mid-April that the ongoing labor shortage is one of the major headwinds for Macau's international flight resumption. The top official lamented that Macau and other cities' tourism industries are facing labor shortages, indicating that increasing international flights is a task for all market participants.