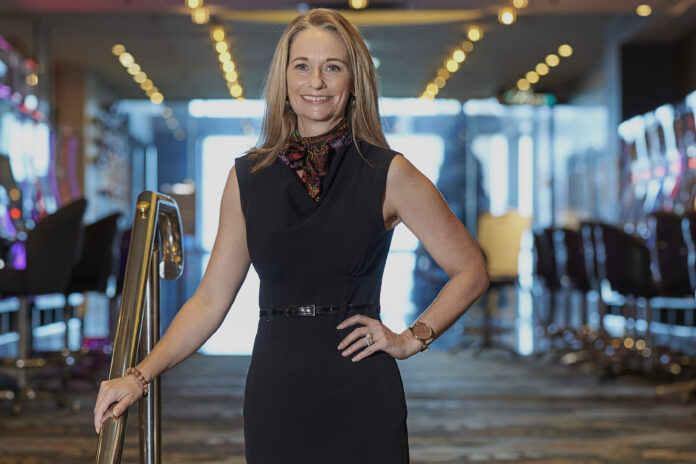 Avril Baynes, a resident of Australia's Northern Territory for three decades, was appointed general manager of the Mindil Beach Casino & Resort in Darwin in November 2020 with a mandate to lead the facility through and beyond the era of the Covid pandemic.
With a background as an industrial relations lawyer and interest in hospitality, Avril Baynes has been at the property in one executive role or another since March 2015.
The property itself, which Baynes describes as "Darwin's leading entertainment destination" and "a bit of a one-stop shop," was formerly known as SkyCity Darwin, but it gained its current name after its April 2019 purchase by Delaware North, a global food service and hospitality company headquartered in Buffalo, New York.
It includes a four-star hotel with 120 rooms, a five-star resort with 32 rooms, four restaurants, four bars, and it is commonly host to such events as gala balls, awards dinners, trade shows, and boat shows. In the dry season, it can easily accommodate outdoor events as well.
Baynes emphasizes that Mindil Beach plays a central role within the local community, and it also serves as a "gateway to Asia," including countries such as Indonesia, Singapore, and even China. This is both because visitors to Darwin used to come to the facility in large numbers, as well as because there are not a few Asians living in the nearby area.
Of course, the onset of Covid profoundly impacted these previous patterns. While the Northern Territory has largely been bypassed by the pandemic, international travel routes were largely severed and the casino resort was forced to suspend its operations for a period of time.
"Something that we're really understanding now is that, since Covid has struck, people's key drivers in selecting places to go for holidays have changed."
Now that it has reopened, some behaviors and strategies have been obliged to change. With international travel still largely shut down, more visitation must be pulled from Northern Territory locals as well as visitors from other parts of Australia.
"Something that we're really understanding now is that, since Covid has struck, people's key drivers in selecting places to go for holidays have changed," Baynes observes. "They used to be very much driven by location and price, and now safety is very high on people's list. They want to go somewhere that's safe."
Delaware North designed a company-wide "Play It Safe" program to protect both guests and employees, and one of Bayne's key tasks has been to apply and implement these policies at her facility.
While the casino resort was in its period of business suspension, employees were put through a Covid training program teaching them how to recognize coronavirus symptoms both in themselves and others, as well as the proper hygiene and sanitation practices.
The casino floor saw screens go up between EGMs where possible, and where not possible, some machines were turned off to allow for social distancing. As for the table games, there has been reduced seating, the staggering of the tables put in use, and crowd management for onlookers.
An examination was made to eliminate unnecessary touch points, which meant that, for example, the tickets used for drawings shifted from physical to virtual.
One of the most significant new requirements was to facilitate contract tracing policies in the event that someone began exhibiting Covid symptoms. The resort and its suppliers formed agreements instituting a duty to inform, and delivery staff has been made to scan in and scan out. In the back of house, various technologies have been employed to help manage the contact tracing requirements.
Fortunately, the relative absence in Covid in the region has not called much of this preparation into service.
Asked her goals going forward, Baynes notes that "the community certainly has felt the fact that we have been closed." As the crisis subsides, she hopes to strengthen the presence of Mindil Beach and to reforge and expand the community bonds.
She explains that the new owners had not been in place even a year before the pandemic entirely changed the nature of the game. New strategies had not been given time to manifest positive results.
"The first priority for me," she says, "is really to build on the strong foundation that Delaware North started when it first purchased the casino."