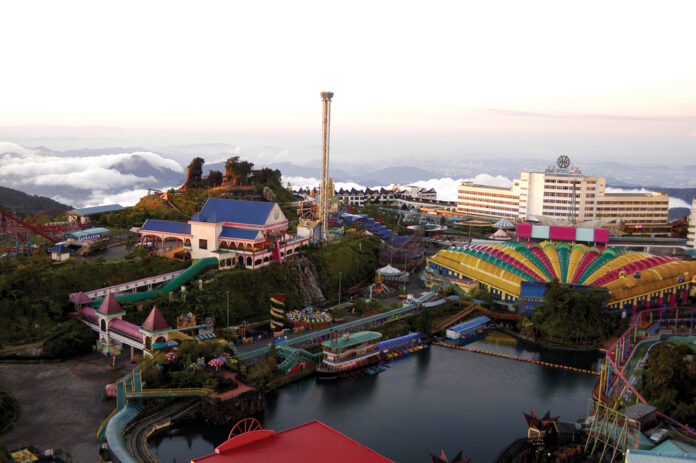 Genting Malaysia's overseas operations are the bright spot for its results at present, but analysts expect a strong recovery in the second half for its key domestic business.
Malaysia's monopoly casino operator has operations in the U.S., U.K., Egypt and the Bahamas, but Malaysia has historically made up the bulk of its revenue. In 1Q22, the most recent figures available, the domestic operations generated MYR921.1 million, compared with MYR358 million in North America and MYR395 million in the U.K. and Egypt.
The results were lower than analysts had expected due to slower visitation in Malaysia due to Omicron, especially in March. However, signs are that business will pick up in the second half.
Genting Malaysia opened its delayed SkyWorlds theme park in February this year and analysts expect it to be a key driver of visitation to the property.
The park is the centerpiece of the MYR10.38 billion ($2.46 billion) Genting Integrated Tourism Plan, which adds new hotel rooms and facilities to Resorts World Genting (RWG). It also increased the size of the casino floor.
The $800 million theme park is spread over 26 acres and has nine themed zones. It is ultimately expected to feature 26 attractions, but not all were open in the first half.
Analysts at CGSCIMB expect visitation will pick up in the second half of the year as more attractions come online.
The firm is expecting 1.5 million visitors this year, rising to 2.3 million next year and 2.5 million in 2023. But it warns that the high start up costs will mean that there is likely to be a hit to Genting's pre-tax profit of MYR174 million this year, and MYR58 million next, before beginning to boost earnings from 2025.
HongLeong Investment Bank cut its forecasts for this year by 34.9 percent and next year by 3.8 percent following the 1Q22 miss. However, analyst Tan Kai Shuen remains upbeat about Genting Malaysia's prospects.
The bank has raised estimates for its target share price to RM3.91 from RM3.69.
"We continue to like Genting Malaysia as we view Resorts World Genting as one of the prime beneficiaries with borders reopening, especially with the addition of the theme park that complements its gaming attraction, making it an attractive tourism spot that could capture visitors from all walks of life," Tan said.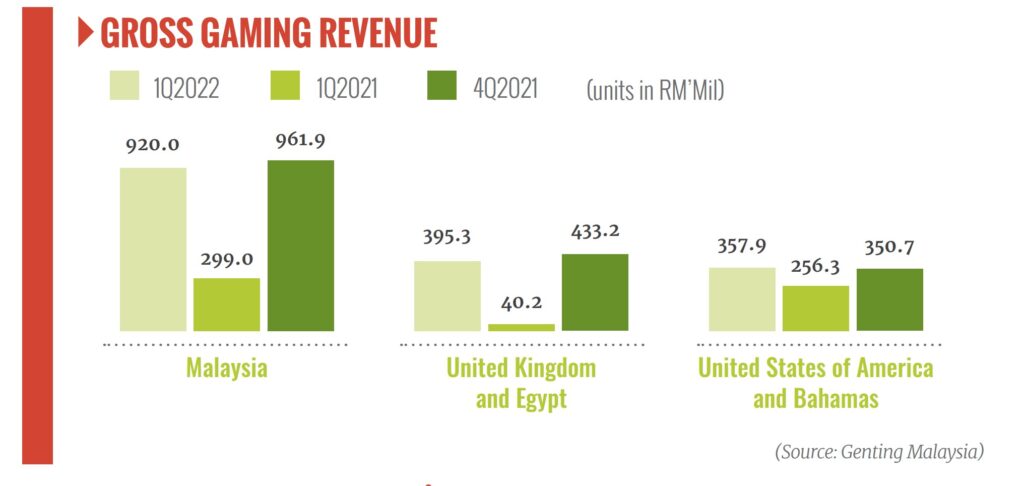 As borders reopen, analysts also say that Genting Malaysia may benefit from the weakness of the Malaysian ringgit.
The company has begun actively advertising overseas since the borders reopened on April 1st, especially in Singapore, analysts at CGSCIMB wrote.
The Singapore market made up between 10 and 15 percent of all visitors in 2019 and the Singapore dollar this month hit an all-time high against the Malaysian currency.
HongLeong's Tan said the weaker currency may encourage local visitors to stay at home as traveling overseas will be more expensive. Conversely, it may boost foreign tourists and mass-market gamblers as it becomes cheaper than its regional peers.
In 1Q22, Genting reached 50 percent of its 2019 gross gambling revenue, with a higher split coming from the VIP market at 55 percent, compared with the pre-Covid normal of about 40 percent to 50 percent, Nomura analysts Tushar Mohata and Alpa Aggarwal wrote.
The group's EBITDA margin fell to 29 percent from 38 percent in the prior quarter, due to higher costs to get customers to the resort and as headcount ramped up to service the facilities.
Nomura has cut its forecasts for EBITDA in Malaysia this year by 11 percent and 10 percent next year, but the firm said it sees better quarters ahead. For the group as a whole, the firm raised its forecasts for 2022 EBITDA by 3 percent this year and cut by 1 percent for next, adding it is below consensus estimates.
"We believe that the street might need to factor in new higher finance and depreciation run-rates, potentially leading to earnings cuts," they said.
---
Malaysia on track to top 2m tourist arrival target
Malaysia welcomed more than a million tourists in the first two months after its borders reopened on April 1st, already reaching half of the government's arrivals target for this year. The country was expecting two million visitors for 2022.
Tourism, Arts and Culture Minister Nancy Shukri was cited as saying that the majority of the tourists were coming from neighboring Singapore, although the government is also expecting increasing numbers from South Korea, Japan and Iran.
---
BetMakers brings tote tech. to Royal Sabah racing club
BetMakers Technology Group said it has signed an agreement with Royal Sabah Turf Club to deliver a new advanced tote betting system and content management services to its Tambalang Race Course and associated off-course betting network in Malaysia through BetMakers' Global Tote and Global Racing Network divisions.
Under the terms of a new five-year agreement, BetMakers' Global Tote division will upgrade Royal Sabah Turf Club's tote system to the Quantum Tote Solution, the world's most widely deployed pari-mutuel betting system. In addition, BetMakers' Global Racing Network will hold the exclusive rights to distribute Royal Sabah Turf Club races globally, within both the tote and fixed odds markets.