Singapore is back, Las Vegas Sands Chairman and CEO Rob Goldstein said after reporting a strong recovery across all business segments in 1Q22, although some analysts urge caution due to the lack of Chinese gamblers and increasing regional competition.
The country was one of the first in Asia to begin learning to live with the virus after vaccination rates topped 90 percent of the population. It removed all remaining travel restrictions in April, including pre-departure testing.
Presenting Las Vegas Sands' 1Q22 results, CEO Rob Goldstein said its Marina Bay Sands (MBS) property had gained momentum throughout the quarter, with $17 million in EBITDA in January, $46 million in February and $58 million in March.
"Assuming there's no more surprises from the COVID situation. We like to think that Singapore will return to a $1 billion run rate in this year. So, $58 million in March feels pretty good, and that momentum is continuing," he said.
"It's all coming back. We saw outsized demand from free independent travelers on the pure leisure side, we saw premium mass."

Rob Goldstein
"We saw high-end plate coming out over the rim," he told analysts on a conference call.
He also conceded that MBS has a unique window of opportunity, with Macau still closed to international visitors from outside Mainland China.
"I think our MBS products have a very, very unique opportunistic window here. We're hoping Macao opens up obviously sooner. But until it does, I think you'll see a lot more demand than typical."
Maybank analyst Yin Shao Yang says he has substantially revised his earnings estimates for Singapore's other operator Genting Singapore due to the earlier-than-expected reopening of borders.
He said his forecast for 2022 earnings has been upped by 165 percent and for 2023 by 123 percent. He now sees VIP volume returning to 83 percent of 2019 volumes by the middle of this year, brought forward from an earlier expectation for 2024.
Mass market gross gambling revenue is likely to reach 92 percent of pre-Covid levels in 2023, compared with an earlier forecast of reaching that level by 2024.
Despite the optimism generated by reopening demand, Yang cautions that he doesn't expect Genting Singapore to be able to return to its pre-Covid GGR levels. He argues that VIP volume will be hit by China's ongoing campaign against cross-border gambling, which is now punishable by as much as 10 years in jail.
The mass market is also likely to face much stiffer competition from regional integrated resorts in the Philippines, Cambodia and Macau, which will be working hard to draw in premium mass gamblers that have frequented the IRs in Singapore.
There is also the added question mark over the potential for legal gambling in Thailand, where a government committee is studying the feasibility of regulating integrated resorts.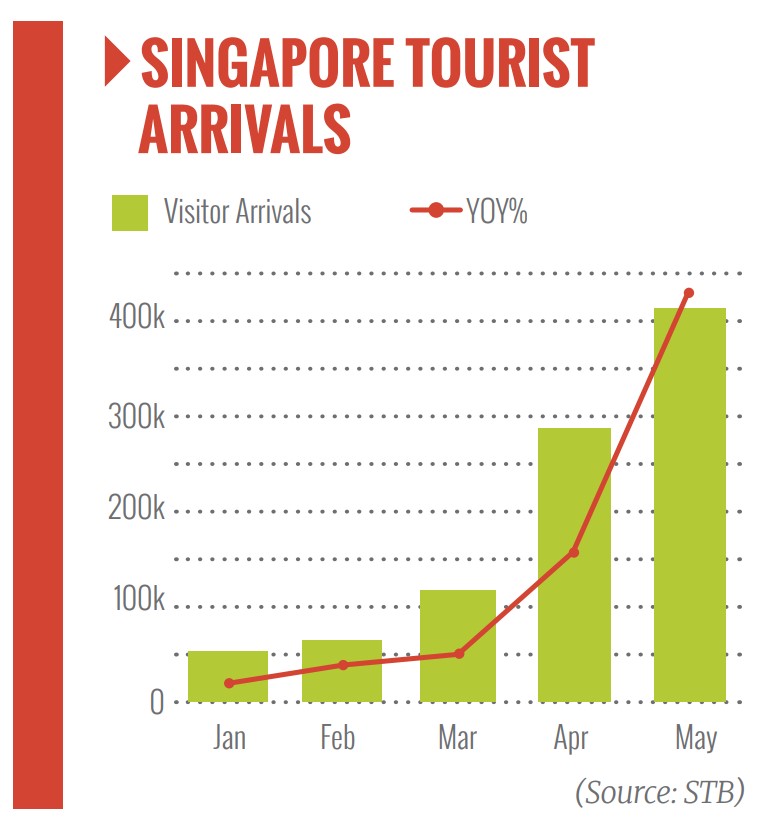 "Even without IRs, a whopping 11 million Chinese visited Thailand in 2019. Should Thai IRs materialize, we would wonder how financially viable the S$4.5 billion RWS 2.0 expansion will be," he wrote.
Both of Singapore's IRs announced expansion plans in 2019. Each agreed to add more non-gaming attractions in return for an expansion in their gaming floor and gaming machines. They have also had their license exclusivity extended until 2030. However, the downside came with higher taxes from 2022 and an immediate hike in casino entrance fees.
Those are now underway, although they have been delayed by the pandemic. MBS said in April it had been given another year to begin construction on the project.
Separate from the broader expansion, Marina Bay Sands is pushing ahead with a $1 billion revamp of its hotel, which will upgrade all rooms and suites, with the work to be completed this year and next.
The hotel revamp will include the addition of signature experiences across the 55th floor of all three hotel blocks, including an Executive Club Lounge, premium fine dining and other luxury lifestyle amenities. Marina Bay Sands opened in 2010 at a cost of $5.6 billion.
Genting Singapore is also revamping its hotel offering at Resorts World Singapore and has also said it will invest $400 million this year on new attractions under the Phase 2 expansion plan.
---
Veteran Tan Hee Teck to take helm as CEO
Genting Singapore has appointed its president and chief operating officer, Tan Hee Teck, as its new CEO. Tan Hee Teck, 66, has been with the company since 2004 and has held the position of president and chief operating officer since 2010.
As a result of his new appointment, he will cease to hold the latter two roles. Genting Singapore said its nominating committee and board of directors had assessed Mr. Tan's appointment as CEO and they were satisfied that he had the qualifications and experience for the role.
He has been with Genting Group since 1982 working in various senior corporate and operational roles, but also had a stint as COO and executive director of investment brokers DBS Vickers Securities until he left to rejoin Genting in 2004.
---
RHB eyes dividend return at Genting Singapore
Research firm RHB has raised its price target on Genting Singapore due to the improved recovery prospects post-Covid and the company's pledge to work towards restoring its pre-pandemic dividend.
The price target goes to S$0.95 from S$0.90. "We still like this company for its recovery from borders reopening and potential upside in dividends," the research team was cited as saying by local media.
"The higher multiple reflects Genting's better and more certain prospects, as Singapore begins to treat Covid-19 as an endemic, reducing the probability of more future strict lockdowns," said RHB.
Pre-pandemic, Genting paid out $0.04 per share. The group is sitting on cash worth about $0.38 per share, which had been earmarked for a mothballed project in Japan.