Good Morning. Last Sunday concluded the final day of the Lunar New Year period, which saw more than 113,000 visitors to Macau. The number is below what had been forecast by government authorities, and far below that of pre-pandemic times, though visitation, hotel occupancy, and spending were an improvement from 2021. This week's infographic tracks Macau CNY numbers over the last four years, three of which were impacted by Covid.
---
What you need to know

---
On the radar
---
What the papers say
---
AGB Intelligence
BY THE NUMB3RS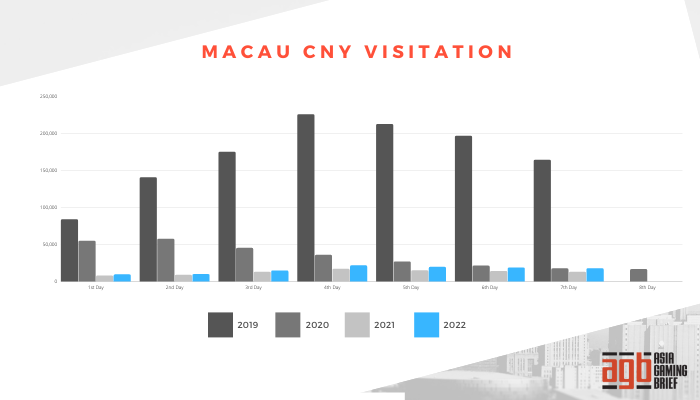 Macau's Chinese New Year visitation numbers saw their first year-on-year improvement this year since 2019 with a total of 113,699 visitors over the seven-day holiday period starting from January 31. The numbers however are still far from 2019 pre-pandemic visitation numbers, which saw daily average visitation more than 10 times that of 2022's CNY holiday period. It's a number also far below the 40,000 daily average that Macau Government Tourism Office (MGTO) had been expecting, despite organizing a number of large-scale events to attract visitors.
In 2022, casinos of all sizes need a true technology partner who can listen to their needs and collaborate with them to develop a roadmap with meaningful solutions that will help the property enhance the guest experience, increase efficiencies, and boost security, today and into the future.
"IGT is continuing to adapt to 'new business normal' across Asia to deliver business growth and support for our customers," said Michael Cheers, IGT Sales Director for Asia. 2022 will see IGT launching a number of innovations across Asia, including a series of new, locally developed links, including Ying Fu Wa, which takes game play 'a step beyond' offering players the chance for extra wins and bonuses.
Industry Updates
MEMBERSHIP | MAGAZINE | ASEAN | CAREERS