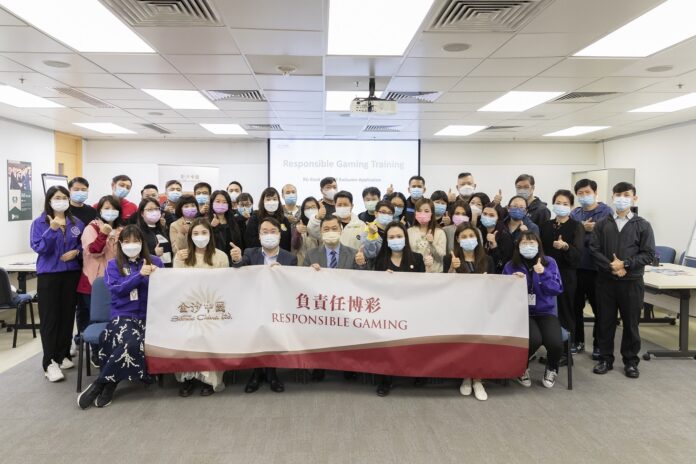 Sands China Ltd. recently hosted a full-day training course entitled Knowing More About Responsible Gaming with the Youth Volunteers Association of Macau (AJVM) at The Venetian Macao's Adelson Advanced Education Centre.
Sessions were offered on three days, Jan. 24-26, as part of the company's on-the-job training for its Responsible Gaming Ambassadors and its ongoing support of the Macao SAR government's "Lost Control, Lose Family" responsible gaming promotions.
Around 80 Ambassadors from Sands China's table games department attended the training, which was jointly conducted by AJVM and Sands China. The AJVM trainers facilitated a game-based activity to strengthen the Ambassadors' knowledge on topics such as self-exclusion, third-party exclusion, and the usage of responsible gaming kiosks and stations. Sands China's trainers reviewed the casino entry ban, presented the risks of gambling addiction and how it affects the family, and gave the participating team members a glimpse into the experience of people with gambling disorder to help them understand the importance of responsible gaming.
"Sands China believes in strengthening our Responsible Gaming Ambassadors' responsible gaming knowledge on a continual basis," said Andy Kobel, senior vice president of table games and gaming optimization for Sands China Ltd. "We are very pleased to have collaborated with the Youth Volunteers Association of Macau on this training session, which gives an opportunity to our Ambassadors to gain further insights and knowledge on responsible gaming."
Austin Vong, president of the Youth Volunteers Association of Macau, said: "We are very grateful to Sands China for giving us this valuable opportunity to facilitate this training. Through this training, we hope to deepen the participants' knowledge of responsible gaming and the responsible gaming information stations, and to increase their awareness of problem gambling, thereby helping them assist people in need."
Sands China delivers company-wide responsible gaming training to all of its 26,000 team members each year. But to become Responsible Gaming Ambassadors, they must complete advanced training offered by the company. Sands China has provided this additional training to around 650 team members since 2013, giving them an enhanced knowledge of gambling disorder, the skills to handle gambling disorder incidents, and a heightened awareness of the importance of responsible gaming. In particular, this additional training focuses on equipping them with the situational awareness and skills to provide appropriate, incisive responses and render assistance to patrons exhibiting signs of gambling disorder.