Six months into the year and there's still no visibility as to when international travel may be able to resume in Asia, with the situation in many countries having deteriorated significantly.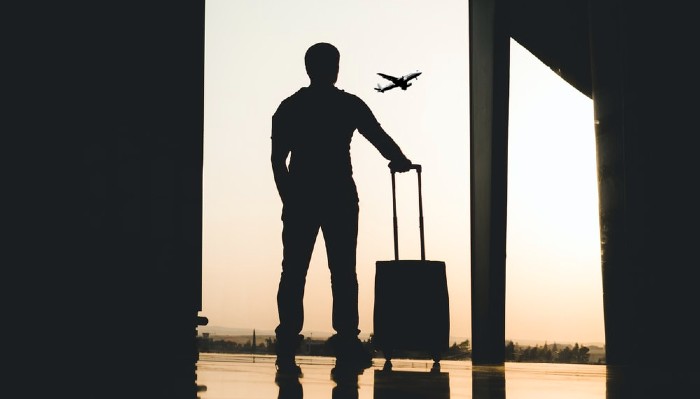 As countries in the Western world gradually get back to normal life thanks to fast-tracked mass vaccination programs, rollout in Asia and other developing countries has been shockingly slow.
According to the World Health Organisation, high and upper-middle-income countries represent 53 percent of the world's population but have received 83 percent of the world's vaccines. By contrast, low and middle-income countries account for 47 percent of the population, but have received just 17 percent of the vaccines.
This has left countries across the Asian region battling renewed spikes in the virus, forcing further lockdowns and creating more damage to their already Covid-battered economies.
Countries that handled the first wave of the crisis well, are also now struggling. Cambodia for example didn't record a single Covid death last year, but has been fighting to get the situation under control since February when two Chinese women bribed their way out of quarantine and went out partying across the capital Phnom Penh.
Cases are also raging in neighbouring Thailand, with the region's porous borders being blamed for the spread of the disease. Vaccine programs are starting, but too slowly to hold out much prospect for a return to international travel any time soon.
Needless to say, this doesn't bode well for the land-based casino industry.
A highly anticipated travel bubble between Hong Kong and Singapore has been delayed a second time after a new surge in the latter city, while Taiwan, another country praised for its handling of the pandemic and seen as a potential bubble candidate, is also seeing record numbers of cases.
Even in places where vaccines are available the rollout has been slow. Macau for example has closed itself off to the outside world and its citizens feel little need to get protected as they have been Covid-free for the better part of a year.
That's all very well, but the borders can't remain closed forever. It's also a huge setback for the government's efforts to diversify its tourism industry, creating 100 percent reliance on Mainland China as they're the only ones allowed in…and at a drip-feed pace at that.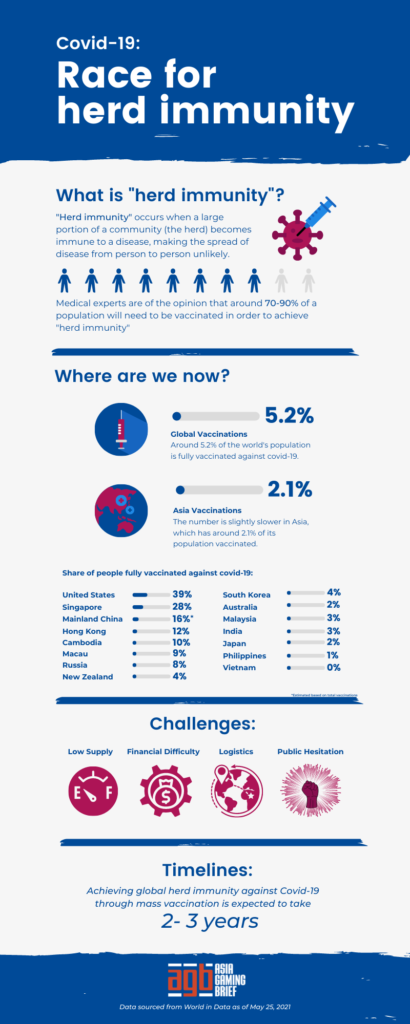 There is also a very real risk that sooner or later Macau will let one past the goalie and will find itself in the unenviable position of its neighbours.
"The casinos are doing their part to encourage vaccination efforts."
As of mid-May, Macau had vaccinated about 87,731 people with at least one dose of a vaccine. It's not an impressive number given it only has a population of about 640,445.
The casinos are doing their part to encourage vaccination efforts. MGM China and Sands China are hosting community outreach vaccination services from late May in conjunction with Macau's health authorities.
Melco Resorts & Entertainment has made immunity one of its key goals and is putting its money where its mouth is. The operator is putting up MOP16 million ($2 million) for its "Get the Jab" campaign to encourage its employees to get vaccinated.
Likewise, Wynn Macau is offering incentives to its employees, giving two days off to get the shots.
China's vaccine program was also limping along with its citizens feeling no real urgency to get protection until a new outbreak triggered a rush to get vaccinated.
The country is now administering an eye-watering 15 million doses a day and experts say that could be stepped up to 20 million. According to World in Data statistics as of the time of writing 450 million shots had been given.
Analysts are expecting Macau's gross gambling revenue to pick up from the second half and although the city's vaccination program is still lagging, China's example lends hope to the idea that travel will become easier.
The rest of Asia may have a longer wait.