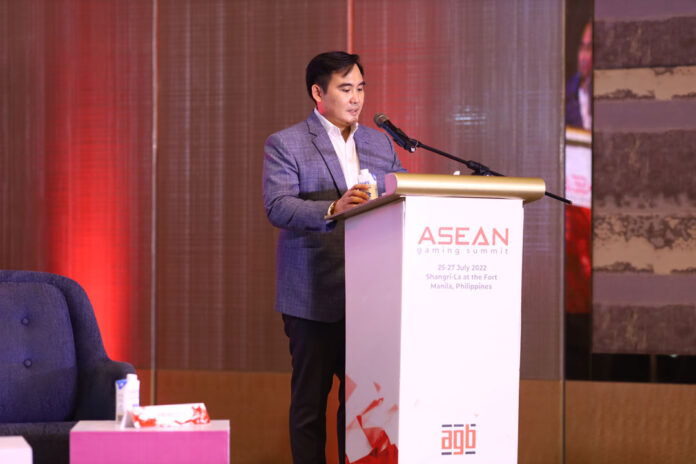 The number of licensed offshore gaming operators in the Philippines has fallen to 35, with only 26 of those currently operational, Philippines Amusement and Gaming Corp. (PAGCOR) executive Victor Padilla said.
Padilla blamed the impact of the Covid lockdowns and the closure of international borders, which has affected the movement of staff at Philippine Offshore Gaming Operators (POGOs).
PAGCOR began issuing POGO licenses for businesses based in the Philippines, but offering their services elsewhere in 2016, when it issued 35 licenses. That rose to a peak of 63 licensees in 2019, when the industry generated PHP8 billion.
Giving the keynote address on Day Two of the ASEAN Gaming Summit in Manila, Padilla, who is an AVP in the Offshore Gaming & Licensing Department, said in total the industry had generated PHP30 billion in revenue since its inception. 
While Covid had an impact on POGOs, even before the lockdowns the sector had been shrinking due to the rising costs of doing business and red tape. Many left for alternative jurisdictions, with PAGCOR Chair Andrea Domingo citing Laos, Vietnam and Cambodia as key beneficiaries.
Padilla said PAGCOR was working with stakeholders and other government agencies to ensure dynamic and stable regulation as it seeks to remain at the forefront of online gambling in the region.
He said some of the key challenges PAGCOR is facing is the continued proliferation of illegal operations, with new websites popping up just as fast as others are being shut down.
Lack of in-person verification is also seen as an issue as it doesn't shut down the possibility of underaged gambling. While the ongoing border restrictions are hindering human resource management at POGOs.
The executive also confirmed that eSabong, or online cockfighting, operations remain suspended as per an order of former President Rodrigo Duterte.