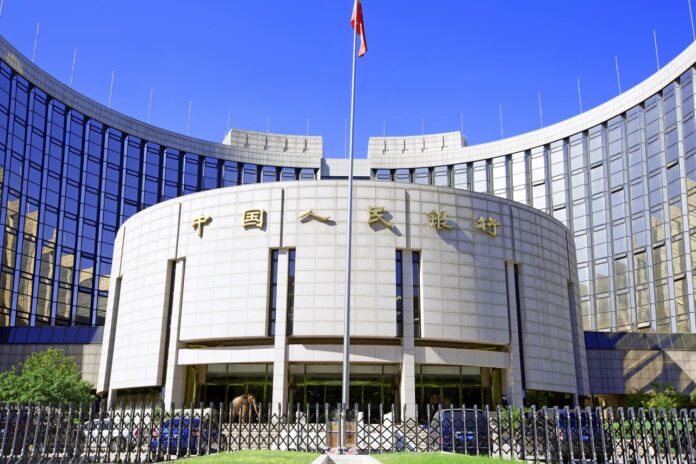 As speculation about the introduction of the digital yuan in Macau increases, the focus is beginning to switch away from the negative impact on the junket industry and VIPs to the immense potential an e-currency may offer for the mass market.
The digital yuan is a blockchain-based currency, however, unlike cryptocoins, it's not decentralized and will be managed by the central People's Bank of China. It will also not be anonymous and authorities will have the capacity to track and monitor potential illegal activity.
China accelerated the rollout of the Central Bank Digital Currency last year, with trials in major Chinese cities such as Shenzhen, Suzhou, Chengdu and Xiong'an. The Hong Kong Monetary Authority has also recently conducted cross border testing of the e-currency and now plans to move to the next level of technical testing.
Macau's Chief Executive Ho Iat Seng said in April that the territory was amending its legislation to pave the way for the introduction of the digital currency, which is expected to help the government combat money laundering and tax evasion.
Talk of the e-currency has generated significant media attention on the likely impact on Macau's junket industry, which has been under pressure from anti-corruption campaigns and efforts to stop illegal cross border movement of funds.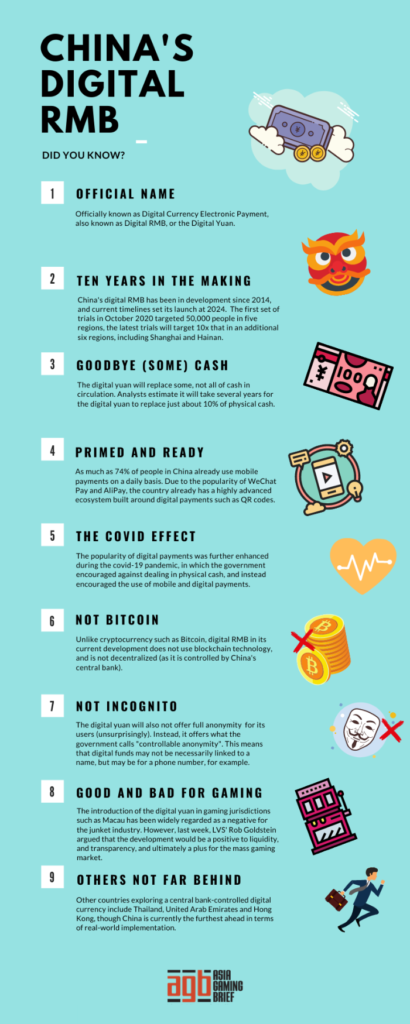 However, industry insiders are beginning to see enormous potential. The introduction of a digital yuan facilitates the movement of funds in and out of Mainland China for all players in a way that has not been possible beforehand.
"Right now with all the cross currency restrictions between mainland China and Macau and Hong Kong, the average premium mass player is faced with huge constraints on their ability to bring cash out of China," said Ben Lee, managing partner of iGamIX Management & Consulting.
"With the introduction of the digital renminbi Macau becomes a single currency jurisdiction and you would no longer need to have restraints because the e-renminbi will allow the central authorities to monitor the transfer of funds from the Mainland to Macau.
"Once that happens the market for the casinos absolutely explodes. We now can call China truly as our domestic market," he said.
There are caveats. The VIP segment of the past, which had already been decreasing in importance, may disappear, especially among players who are not able to explain the source of funds.
It's also unclear at present, whether casinos operators would be forced to only allow chip purchases in e-currency, or whether the current legal tender would still be accepted. Were the digital yuan to replace the Macau pataca altogether, U.S. casino operators would need to report to central authorities to be able to repatriate their funds, which at present they are not required to do.
Bernstein Research, in a report earlier this year, said the "devil will be in the details." It said if there was a requirement to purchase chips with RMB and China were to insist on daily or annual transaction caps it would be negative for the industry. However, the firm said it believed this would be a "draconian" option.
"We're looking to focus on the mass customer, premium mass — that's our bread and butter, that's who we are, where we want to go in the future."
Las Vegas Sands CEO Rob Goldstein was asked his views on a recent conference call with analysts for the group's Q1 results. He said he views greater integration with China as a positive.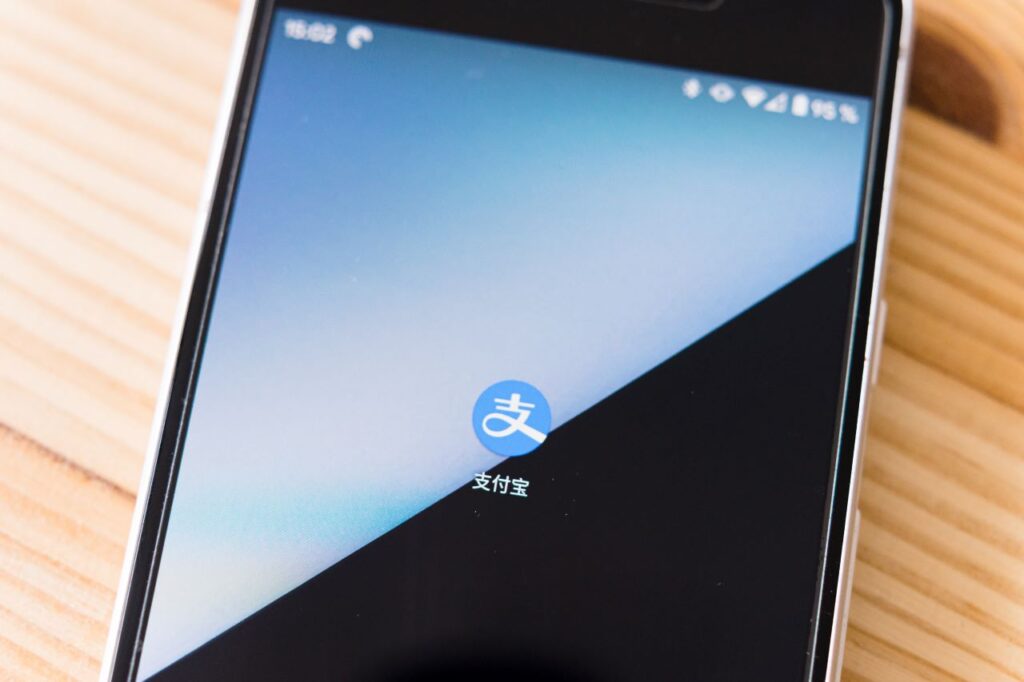 "I think the assumption has been by a lot of people, that this is a negative thing," he said. "We view it as a positive as again, we would love to have more cross-border currency. We're looking to focus on the mass customer, premium mass — that's our bread and butter, that's who we are, where we want to go in the future."
Much media coverage has focused on the potential impact on the junkets, with the common view that it will be the final nail in the coffin for the struggling sector. However, Lee says he believes there will still be a role for the bigger groups.
"The movement of funds is not the junkets' core activity and in fact they don't make any money," he said. "Their most important function is the ability to identify and recruit players from Mainland China and bring them over and to grant credit, which casino operators can't do."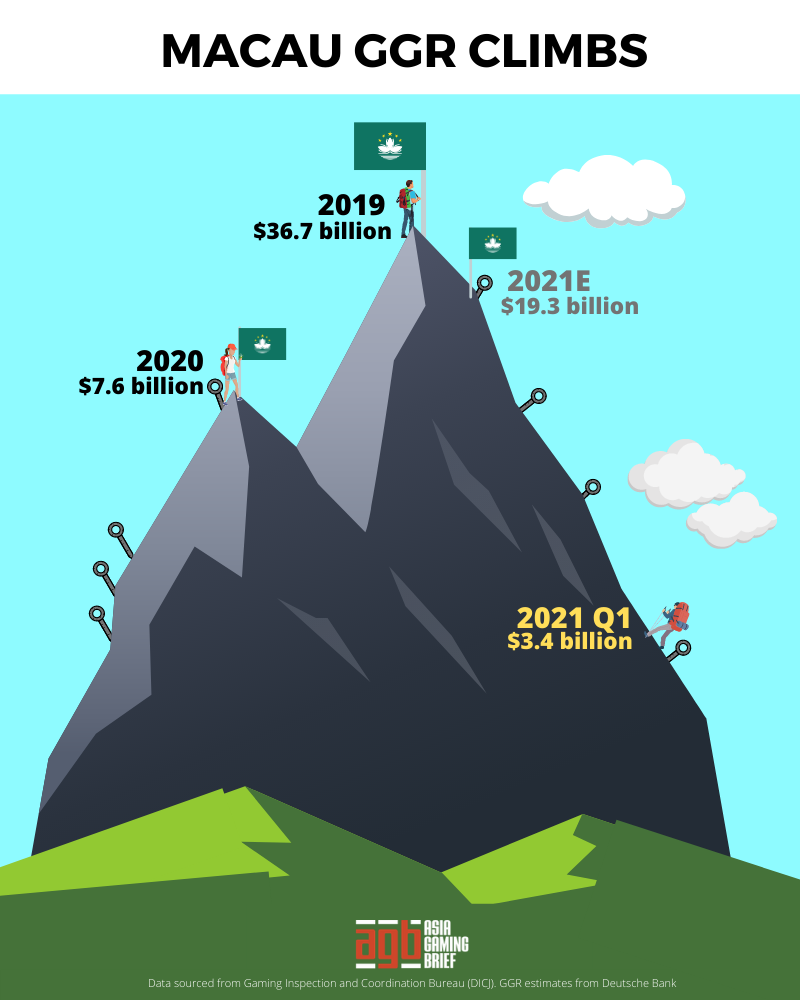 ---
Pent-up demand not factored into stock performance: UBS
Analysts from Swiss bank UBS have upgraded their rating for the Macau gaming sector to "buy," noting that upside potential from China's pent up demand has not been fully factored in. "We believe there are upsides that have not been factored into the stock price" said Angus Chan, head of Hong Kong strategy at UBS Global Research. "Once Macau relaxes border controls further, there will be a [greater] recovery in the gaming sector. That's why we recommend buying the sector." Chan said that Macau's gaming sector, relatively speaking, has underperformed compared to other Chinese discretionary spending sectors and the overall market over the past year. An example of this is the luxury market, which outperformed expectations in 2020.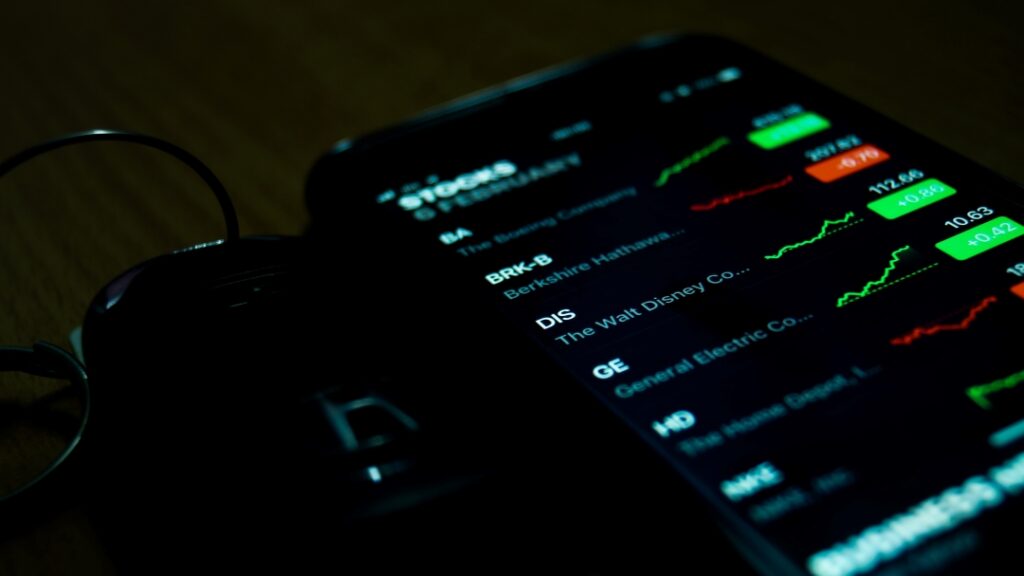 ---
Supply shortage may limit future growth
Macau's mass gaming market is likely to grow in the high single digits from 2022 once the pandemic eases, but growth going forward will depend on the ability to bring new attractions and products online, industry experts on a gaming panel said. "I've always been a big believer that Macau is a build it and they will come story, so as long as Macau continues to develop new resorts and features and the border stays open, the prospects on the mass side are exceptionally strong," Bernstein Research senior analyst Vitaly Umansky said on a SIGMA Manila virtual roadshow. However, the key question will be whether Macau is able to continue to add new attractions. SJM Holding's Grand Lisboa Palace is expected to open in June, while most of the operators have further later phase expansion plans in the works over the next two years. But a lack of space may be a severe hindrance beyond 2024 to the ability to add features to pull in new visitors.