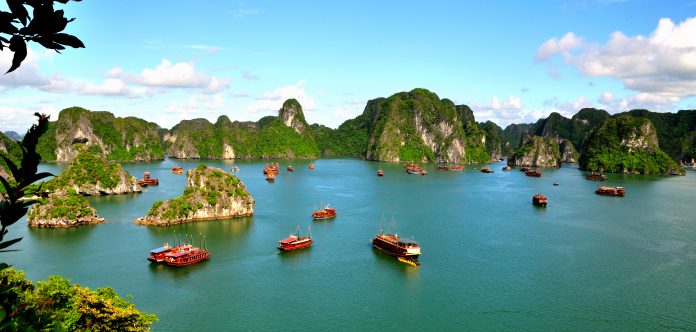 Vietnam is seen as one of the most promising emerging markets in Asia and recent changes in regulation will unlock plans for an ambitious project to create a Macau-style entertainment hub in the north of the country.
The government recently announced it plans to allow funds invested in infrastructure in designated economic zones to be counted as part of the minimum capital requirements for integrated resorts. The country's gaming decree stipulates that developers need to spend $2 billion on the resort and at least $1 billion needs to be disbursed before the casino license will be issued. The new proposal still needs to be ratified by the parliament.
That was creating roadblocks for investors in the Van Don Special Economic Zone in particular, as the area suffered from poor infrastructure and required substantial investment to improve access.
Sun Group, a Vietnamese property developer, holds the license to run casinos in the zone and is now expected to proceed with its project, which is close to the UNESCO World Heritage Site of Ha Long Bay. 
The group has already invested  VND7.5 trillion ($322 million) in Van Don International Airport, which opened in December 2018 and VND12 trillion into the 60km Ha Long-Van Don Expressway which is expected to be complete in 2021.
However, the integrated resort portion of the zone was delayed pending government decisions on the minimums. According to the company's website, it was initially forecast to begin construction in 2017, with completion in 2025. 
" I would put Vietnam as the hot spot in Asia right now."
To be built over 2000 hectares, the resort will include hotels, villas, apartments, a theme park, commercial center, exhibition space, sports complex with horse racing and an 18-hole golf course. Sun Group is the only casino license holder, but the resort may house up to eight separate casinos. 
Situated 15 minutes from the airport and 3.5 hours from Hanoi on the new highway, it will also be linked by road to Mainland China.
"I would put Vietnam as the hot spot in Asia right now," said Ben Lee, managing partner in iGamiX Management & Consulting, which is involved in the Van Don and other projects in the country. "One of the unique factors is the land border with China, which no other regulated jurisdiction other than Macau has."
"Despite the political differences, it has been an attractive destination for the Chinese, with a unique culture and at reasonable price points," he adds.
Dr Oliver Massmann, a partner with law firm Duane Morris, who has more than 20 years of experience working in Vietnam, also cited the country's dynamic economy with a rising metropolitan middle class, as well as a huge potential for tourism, with long coastlines and natural landscapes as key draws.
Last year, Vietnam attracted a record 18 million tourists, generating revenue of $31.4 billion. China was the main source market accounting for 5.8 million of the total, followed by South Korea with 4.2 million.
It is also one of the best-performing economies in Asia, with gross domestic product expanding by about 7 percent in 2019. Vietnam hasn't escaped the economic ravages of the Covid-19 pandemic, but is expected to still record growth for the year as a whole.
Economic reforms launched since 1986 have lifted millions out of poverty. Currently about 13 percent of the 97 million population are considered middle class and that's forecast to rise to 26 percent by 2026, according to World Bank figures.
Locals are only allowed to gamble in two casinos in the country under a three-year pilot program. One of those is Van Don and the other is the Corona Resort & Casino on Phu Quoc.
Developed by Vietnam's Vingroup and managed by Netherlands-based Upffinity, Corona last year got about 45 percent, or 47,400, of its casino guests locally last year. The resort opened in early 2019.
Hong Kong-listed Suncity Group Holdings holds a contract to provide management and technical support to the Van Don project. It has also opened its own $4 billion foreigner-only property in the centre of the country. 
The central region around Danang is viewed as having among the most potential due to its strong flight connectivity, however, properties there are not allowed to accept locals. 
"The ban on locals gambling is still a major hurdle," Dr Massmann says. "The government seems reluctant to open the floodgate. If foreign investors cannot access local customers they will have to rely almost exclusively on foreign tourists and that may be challenging in the short term due to Covid."
He adds there are further drawbacks in that casinos need to be integrated into a wider hospitality project, which means higher entry costs, involving large areas of land and investment in connecting infrastructure.
Vietnam has eight operational properties that have doubled their revenue in the past three years, from VND1.19 trillion in 2017 to VND2.5 trillion in 2019, according to Ministry of Finance figures cited by local media. The contribution to the State budget rose from VND645 billion to VND1.34 trillion.
Dr Massmann says aside from Hoiana, which is scheduled to open fully next year, there are a further two IRs that have received approval — Laguna Lang Co in Hue and Casino KN Paradise Cam Ranh in Nha Trang.