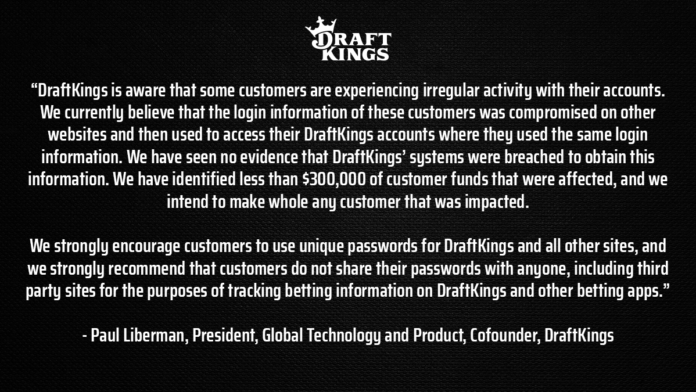 Sportsbook operator DraftKings says that some $300,000 in customer funds were 'affected' after customer login information was 'compromised on other websites and then used to access their DraftKings accounts where they used the same login information'.
Despite the group assuring that they have 'seen no evidence that DraftKings' systems were breached to obtain this information', the group intends to reimburse customers for any stolen funds, noting it would 'make whole any customer that was impacted'.
The information came via a Tweet on DraftKing's Twitter account on Tuesday, and follows similar reports of compromised customer information via third-party websites.
BetMGM told ESPN that several fraudulent accounts were created on its sports betting app, noting that it was "aware of a potential incident and actively investigating". One online payment processor for BetMGM and other gambling sites said it was assisting law enforcement with an investigation into "fraudulent accounts set up at unaffiliated third parties using stolen personal information", it reports.
DraftKings has urged its customers to use unique passwords for its and all other sites, and to not share passwords with anyone, "including third party sites for the purposes of tracking betting information on DraftKings and other betting apps".