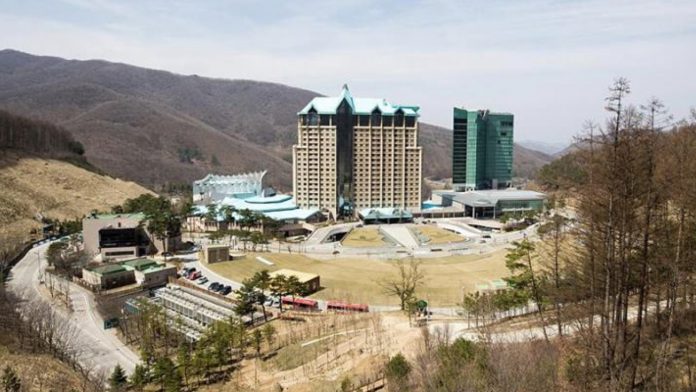 Kangwon Land earnings are likely to rebound strongly once operating restrictions ease and sales will beat pre-pandemic levels, NH Investment & Securities analyst Hazel Lee writes.
Kangwon, which is the only casino in South Korea where locals are allowed to gamble, is the analysts' top pick in the country's casino sector with a "Buy" rating and a target price of KRW36,000.
Writing in Business Korea, Lee notes that the casino is currently hampered by strict social distancing rules. It is currently limited to a maximum of 1,800 visitors, which is 30 percent of its capacity.
However, she notes that the number of people booked on a daily basis has already returned to pre-pandemic levels.
"As this proves the firm's solid demand, its earnings are expected to rebound once operations normalize," she wrote.
The South Korean government is currently in discussions to move to a policy of coexistence with the virus, which is likely to take place from November as vaccinations rise. This is likely to mean additional easing of casino restrictions.
The company has increased its gaming tables by 10 percent and its operating hours by 10 percent, meaning once operations are normalized sales will surpass their prior levels.
Lee estimates Kangwon land will post 3Q21 sales of KRW272.5 billion, up 256 percent year-on-year and an operating profit of KRW4.2 billion, with both figures above consensus views.
She also notes that under recently modified social distancing rules, even if Covid levels rise, casinos won't be shut down.
The company reported a major improvement in its 2Q21 results, both year-on-year and from the prior quarter, returning to a profit of KRW20.9 billion ($18.1 million).
In the same period a year ago, Kangwon Land had a loss of KRW45.6 billion, while for 1Q the loss was KRW40.9 billion.
Revenue in the period surged 487 percent from last year and doubled from 1Q to KRW203.6 billion. Casino sales made up KRW183.9 billion.
In August, it announced that the government has extended its license for another 20 years, although it will be required to make a greater contribution to a fund designed to boost the economy in the remote area of the country in which it operates.
Instead of paying out 25 percent of profit, the company will be required to pay 13 percent of gross gambling revenue to the Abandoned Mine Fund.
Kangwon Land generates more revenue than the country's two foreigner-only operators combined, buoyed by significant local demand.
Both Paradise Co. and Grand Korea Leisure have highly volatile earnings as political spats and outbreaks of disease, even prior to Covid, cut tourism numbers.
The companies have been marketing staycations to locals to drive revenue from their non-gaming activities and both reported improved revenue for August.
Paradise sales were particularly strong, with total revenue of KRW59.4 billion ($51.3 million), compared with KRW6.9 billion in July and KRW17.2 billion the same month last year.
Grand Korea Leisure said sales rose 16 percent from the prior month to KRW8.8 billion, but were down 12 percent from a year earlier. The company operates the Seoul Gangnam, Seoul Hilton and Busan Lotte casinos.