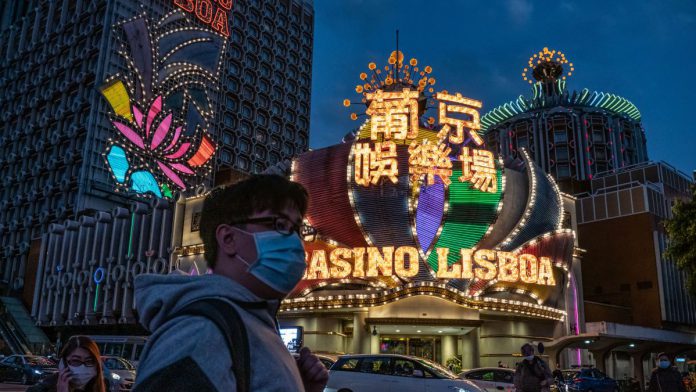 Macau and Hong Kong could be moving closer to a travel bubble, amid reports the number of buses crossing the Hong Kong-Zhuhai-Macau Bridge is set to double.
The so-called Golden Bus will double its frequency from three buses daily to six from Thursday. The bus is the only current transport link between the two SARs, after all ferry services between the cities were suspended in February of 2020.
A travel bubble between the two regions has been highly-speculated for over a year, with Macau authorities initially saying a period of 28 days without local infections in Hong Kong would allow for a re-opening.
The idea was retracted soon after it was floated and Macau's health bureau announced that such a bubble would depend on an inspection by a team from the Mainland Chinese health authorities. This was curtailed by Macau's first local cases in nearly 500 days, on August 3rd.
Regarding the possibility of a travel bubble, Ben Lee, managing partner of iGamiX Management & Consulting, notes: "Your first sign is the doubling of the buses. Why would Shun Tak (the bus operator) do that with the current volume of people coming from Hong Kong?"
This move "doesn't make sense" economically, he notes, unless something else is afoot.
The increase in daily buses accompanies statements by Hong Kong legislators, and the deputy director of the Hong Kong and Macau Affairs Bureau, pushing for the financial hub to open up with Mainland China.
This opening up has been tied to Macau's opening up with Hong Kong as well.
Given that Hong Kong is Macau's second-largest market, the move would be a large boost for Macau tourism.
"There's a strong demand from the Hong Kong middle class who are wanting to go somewhere," notes Lee, "there's a huge pent-up demand for staycations. That would be a boon for our non-gaming."
That F&B and hotel non-gaming revenue increase would also be accompanied by a mass gaming component. The VIP element from Hong Kong would likely be signalled by the resumption of the point-to-point private limo service, which has yet to be announced.
But for Lee, the VIP market overall is unlikely to recover: "I doubt if we will ever return to the heydays," he said – referring to both Mainland and Hong Kong VIP punters.
The new announcement comes a little over a month before the October Golden Week, which operators are counting on to push up numbers slashed by the recent outbreak.
However, the restrictive measures imposed on Mainland Chinese visitors during the period may curb demand, Lee warns.
"It will take awhile for (Mainland Chinese visitors') confidence to return that Macau is not going to suddenly close the borders, like it did before. It's still too fresh in their minds," he notes.
While Macau did not fully shut its borders during the early-August outbreak, like it did in 2020, the reclassification of Mainland Chinese visitors' health codes, due to their possible exposure to infection, led to them either being required to quarantine, or being kicked out of hotel rooms and prohibited from using public transport, as well as effectively prohibiting them from returning to Mainland China until they were tested and their health code reverted to green.
But visitors from Hong Kong have not yet had to experience this frustration, as quarantine measures on arrivals from Hong Kong have been in place for over a year.
Visitors from Hong Kong "never had that in their mass collective memory. So, if the travel bubble occurs, they're not going to be as careful or as hesitant," notes Lee.
And visitation from Hong Kong would not necessarily only be linked to Golden Week, given that the holiday is more celebrated on the Mainland, meaning that the travel bubble could be announced before October 1st.
As of Wednesday, Macau authorities prolonged the validity period of nucleic acid test results for those crossing land borders from Guangdong to seven days, from 48 hours.
However, the 48-hour result is still mandatory for air travel into Macau.
Zhuhai authorities, however, starting from Thursday, are no longer requiring the 48-hour test result, which could potentially facilitate travellers aiming to enter Macau from other regions in China via Zhuhai.
But as long as the memory of the recent outbreak, and restricted border measures remains fresh, the outlook for the third quarter remain subdued: "Provided there are no more Covid cases, it will be a slow but gradual recovery as potential travellers regain confidence in their ability to come to Macau without restrictions coming down immediately without notice," notes Lee.