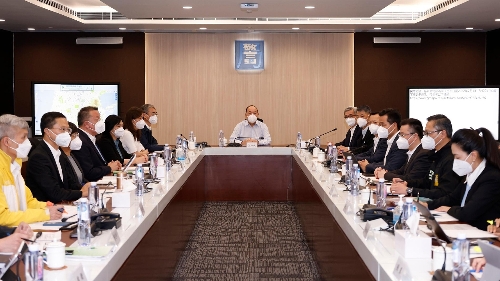 The Macau government has indicated there will be some easing of the strict Covid lockdowns from July 23rd as local cases subside.
In a briefing with Macau's Chief Executive Ho Iat Seng, the vice president of the Novel Coronavirus Response and Coordination Center, outlined the preparatory work that had been carried out for a so-called "consolidation phase," which is expected to last for two weeks.
This is expected to allow some normality to resume after all non-essential businesses and services were shut down from July 11th. However, it's still not clear whether the casinos will be allowed to reopen.
The Chief Executive also reiterated that Macau will not back away from its zero-Covid policy.
"Every public department must plug loopholes in their epidemic prevention and control work, and strive for the goal of "zero COVID" in the community, so that people's lives can return to normal as soon as possible," he said.
Macau reported its first cases of Omicron in mid-June and has now had a total of 1,765 cases, its worst outbreak of the pandemic. Numbers have been gradually subsiding with just 10 cases reported in the past 24 hours.
The outbreak has brought Macau to a standstill and forced the reimposition of border controls with the Chinese Mainland. Travelers into the province of Zhuhai are required to undergo seven days of mandatory quarantine.
Visitor arrivals in June were down 36.6 percent month-on-month to 380,671, according to Census and Statistics Service figures released on Tuesday.
It was a drop of 28 percent from the prior year. Same day visitors and overnight visitors dropped by 36.2 percent and 15.9 percent respectively. The majority of the visitors – 336,488 – came from the Mainland with 134,981 of them entering through individual visit scheme visas.