Galaxy Entertainment Group (GEG) has reported that its gross gaming revenue for the third quarter has dropped 75 percent annually and 34 percent quarter-to-quarter, reaching just HK$918 million ($117.01 million).
This was largely comprised of mass gaming revenues, which reached HK$798 million ($101.72 million), a yearly drop of 65 percent and a quarterly fall of 32 percent.
Electronic gross gaming revenue actually topped VIP, totaling HK$64 million ($8.16 million), despite a 57 percent yearly fall and 15 percent quarterly decrease.
The group's primary contributor to revenue and earnings, Galaxy Macau saw a 62 percent year-on-year fall in revenue during the quarter, and 25 percent quarterly drop, hitting HKD1.07 billion ($140 million).
Of this, gross gaming revenue for Galaxy Macau amounted to HK$749 million ($95.47 million), down 72 percent yearly fall and a 33 percent quarterly drop.
This drove the group's adjusted EBITDA loss for the property of HK$299 million ($38.11 million), a fair cry from the HK$454 million ($58.87 million) gain registered in the same period of 2021 and an increase from the HK$188 million ($23.96 million) loss registered in the second quarter.
During the period, the property's five hotels registered occupancy of just 26 percent, with combined hotel/F&B/other revenue totaling HK$171 million ($21.8 million), down from HK$244 million ($31.1 million) in the previous quarter and HK$288 million ($36.71 million) in 3Q21. The group's mall netted HK$238 million ($30.34 million) in revenue, a slight dip from the previous quarter and HK$41 million ($5.23 million) fall from the same quarter of 2021.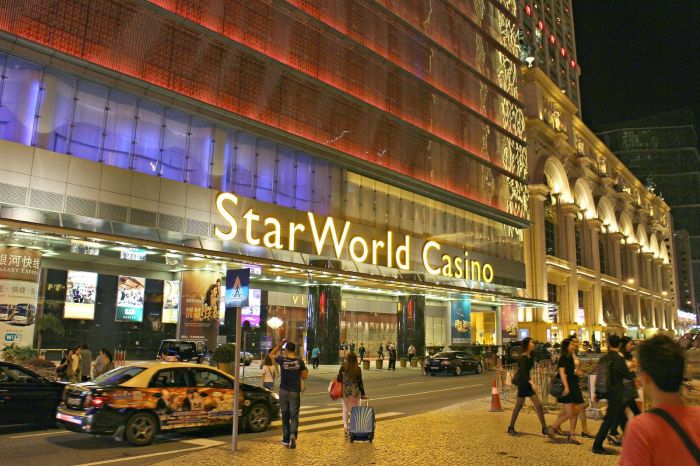 GEG's main property on the Macau peninsula, StarWorld Macau, saw a 76 percent fall in overall revenue, and a 28 percent sequential drop, totaling HK$158 million ($20.14 million).
Gaming revenues made up HK$150 million ($19.12 million), an 81 percent annual drop and a 28 percent quarterly fall.
Based on hotel occupancy of just 24 percent during the quarter, hotel/F&B/other revenue was HK$17 million ($2.17 million), unchanged on a quarterly basis and more than half of the HK$30 million revenue registered in the segment in 3Q21.
GEG also operates Broadway Macau, a family-oriented resort, which registered just HK$10 million ($1.27 million) in revenue during the quarter, down from HK$14 million ($1.78 million) in 3Q21 and HK$15 million ($1.91 million) in 2Q22.
Overall, the group's revenue reached HK$2.03 billion ($260 million) in the third quarter, down 52 percent yearly and 16 percent quarter-to-quarter. Adjusted EBITDA was negative, at HK$581 million ($74.06 million), an increase from the negative HK$384 million ($48.95 million) registered in the previous quarter and a complete turnaround from the positive HK$503 million ($64.12 million) made in 3Q21.
The group's balance sheet continues strong, despite the headwinds, with HK$22.5 billion ($2.87 billion) in cash and liquid investments and net cash of HK$19.3 billion ($2.46 billion).
The group's chairman, Lui Che Woo, noted in a release that the "COVID-19 related travel restrictions imposed in Q2 flowed in Q3 and even resulted in the closure of casinos for 12 days during the quarter. This impacted visitation, revenue and profitability".
The group does not that it sees Macau's September 1st reopening of borders to 41 foreign countries (despite the mandated 7-day quarantine) has the group 'encouraged' and that the launching of the e-visa scheme for mainland Chinese visitors and eventual resumption of package tours "will drive an increase in visitation and revenue for the market".
The chairman notes "we remain confident in the future of Macau" in the medium to long term but "we do acknowledge that further potential outbreaks […] may impact our future financial performance".
Lui Che Woo also commented on the group's submission of its gaming concession tender for a 10-year license, noting the group is "well positioned to support the long-term development of Macau".
This goes in line with its ongoing development of Cotai Phase 4, and opening of Phase 3, which together supply 3,000 family rooms and villas, MICE space, a 16,000-seat arena, casinos, F&B and retail.