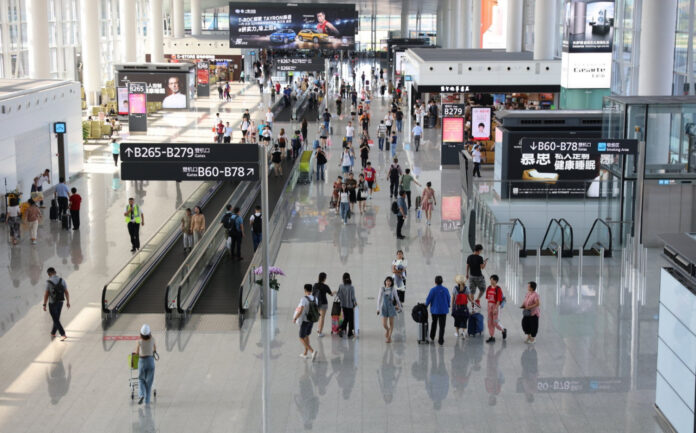 Ratings agency Fitch notes that flight shortages in China have hindered international traffic, which has recovered to only 33 percent of pre-pandemic levels. However, domestic flight recovery is accelerating as air passenger traffic has reached 94 percent of 2019's average levels. 
According to a Tuesday memo, Fitch says that China airports' passenger traffic settled into a 'more stable upward trajectory' in 2Q23, with already 155 million passengers in total. But the figures were boosted mainly by domestic flights, because recovery of the international routes has been sluggish due to 'geopolitical tensions' and 'overseas airports' capacity limits'.
Fitch sees great potential for growth, although the recovery may be gradual and hinge on the supply of international services.
Regarding the domestic recovery, Fitch points out that the 2Q23 rebound follows a strong resurgence in early 2023, noting that accumulated savings, release of pent-up demand and gradual restoration of consumer confidence, stimulated by authorities' supportive policies, collectively contributed to the recovery.
Long-weekend holidays in the quarter – Cheng Ming Festival, Labor Day and Dragon Boat Day – served as a catalyst for the robust recovery and boosted travel sentiment. 'Daily flights exceeded the 2019 level on Labor Day, due largely to domestic flights. We expect the travel boom to spill over through the summer season despite the economic turbulence,' note the analysts.
In addition, Fitch notes that China has continued growing its civil aviation cluster and boosting its air transportation network to accommodate air traffic growth. It plans to spend sizeable capex on new greenfield airports and modernizing existing airports.
In this way, the agency believes funding needs for most airports will remain high in the mid-term. Construction of the third Shanghai airport will commence this November in Nantong, with an estimated cost of CNY50 billion ($7 billion).