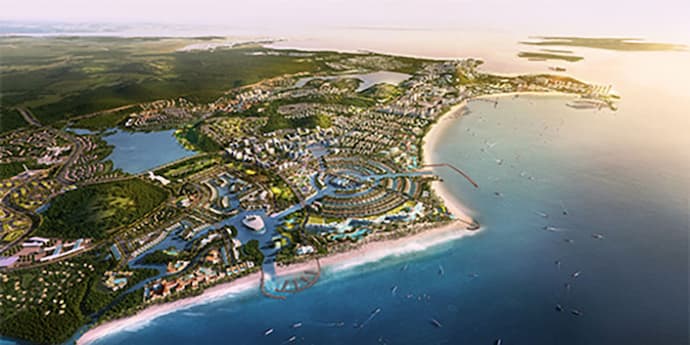 Cambodian table games operator Century Entertainment says that it has signed a new five-year agreement to operate eight gaming tables at its casino in the country.
The group had relocated its casino operations from Sihanoukville to a new casino in Dara Sakor during the pandemic.
The new agreement is at a consideration of HK$58 million ($7.39 million) but is offset by the amount owned by the company's CEO and his fully-owned subsidiary Lion King amounting to the same value.
The new casino and all eight tables under the new agreement commenced operations in November of 2021, however the operations were hindered due to COVID restrictions and shutdowns.
The group notes that an appraisal of the tables value totaled HK$63.6 million ($8.11 million), as of September 30th, 2022, and that the consideration of the new agreement represents a 'discount of approximately 8.8 percent to the preliminary valuation'.
Additionally, the company's CEO and Lion King have noted that would pay for any relocation costs for moving to the new casino and loss of revenue during the relocation period 'calculated based on the average daily gross revenue generated from the new tables' during the completion period, multiplied by the number of days for the relocation.
The new casino in Dara Sakor, Koh Kong province is 10,500 square meters in size, with the casino areas making up 7,000 square meters.
The property includes 20 mass gaming tables – including baccarat (including the new tables, poker, blackjack and sic bo – as well as 50 electronic gaming machines, 25 VIP tables and a Chinese restaurant.
The company is leasing the casino and gaming license until April 2036.
The new gaming tables will only be located in the mass market area of the casino, with Century Entertainment to take 100 percent of house winnings, while being responsible for 100 percent of losses. It will also cover staff costs and taxes associated with the tables.
It also pledges to work with the casino leaser to 'promptly renew the gaming license on an annual basis'.
The group will also be responsible for verifying player identities and keeping records on players and junkets, as well as recording bets and monitoring revenue and reporting suspicious irregularities.
Only cash will be allowed at the new gaming tables.
The group notes that Chinese customers 'are expected to be the New gaming Table Business' major patrons'.
The group notes that it 'sees attractive potential in the gaming market in Dara Sakor […] which is one of the most rapidly developing districts in Cambodia', further noting that the new casino 'is planned to be surrounded by luxury hotel resorts and a golf course', and that the 'new international airport close to the New Casino could also help attract visitors'.