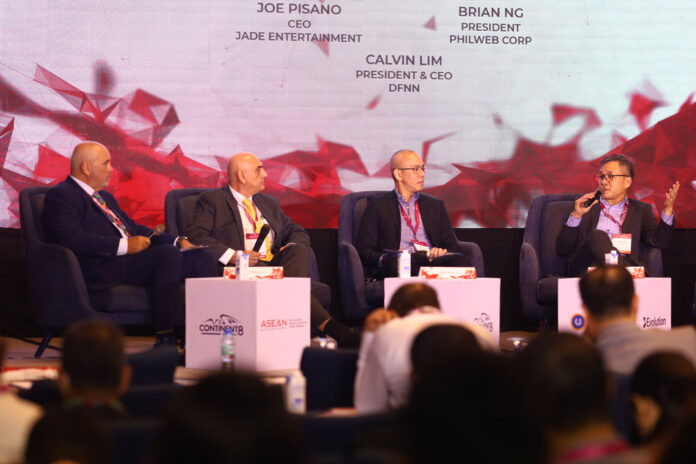 Eighteen months after the introduction of the first online gambling licenses in the Philippines, industry players would like to see regulation evolve to create a level playing field and allow them to compete with the booming illegal industry.
The Philippines Amusement and Gaming Corp. (PAGCOR) introduced Philippines Inland Gaming Operator licenses (PIGOs) in late 2020, responding to a government call to help raise revenue to fight the Covid pandemic.
It was the first jurisdiction in Asia to regulate domestic online gaming, but the nascent industry may need a rethink to allow it to reach its full potential, experts on a panel at the ASEAN Gaming Summit in Manila said.
The illegal market is likely generating about PHP10 billion ($180 million) a day over and above the legal operators, Joe Pisano, CEO of Jade Entertainment said, while DFNN CEO Calvin Lim estimates the illegal market at about 40 to 50 times higher than that generated by licensed operators, of which there are now 16.
Part of the issue is the hybrid nature of the PIGO model, which is technically an extension of a land-based license that allows the operator to offer their slots and table games remotely.
Brian Ng, president of Philweb, questioned whether PAGCOR intends to keep this model, or whether PIGOs will eventually become a pure online gambling product. At present, the PIGO operator can team with a venue, pay a PHP500,000 license fee, and begin addressing the same market through their games online.
It's a far cheaper entry point than the actual casinos and venue operators who are subject to tighter regulation and in the case of Manila's integrated resorts may have invested billions to enter the market.
"There should be some kind of relationship between what is happening on bricks and mortar and online," Pisano said.
The PIGOs are also launching their services at a time when the market has not yet fully recovered to pre-pandemic levels.
"There is a steady cannibalization that is taking place already," said Ng. "There needs to be a complete reevaluation of what we are doing with PIGOs."
Ng said the majority of Philweb's gross gambling revenue still comes from its electronic gaming parlors that are spread across the country.
All of the panelists agreed regulation of the industry was the way forward and had come from surging demand. Lim said other jurisdictions around Asia are believed to be watching the situation closely in the Philippines to see how the industry evolves.
"We have to appreciate the fact that for any jurisdiction to have this regulation, is 100 steps forward," he said. "The next step is tightening up to make it more relevant to what it is today. Does it make sense to tie down an online license with a land-based license in this particular scenario where the land-based is geographically limited but online is without limits."
High levels of taxation were also seen as an issue holding back the ability to compete with the illegal market, with an uneven treatment across products and channels. eBingo is extremely popular in the Philippines, but there is no online bingo product due to a taxation rate of 55 percent, Ng said.
There is a multi-tiered structure of taxes that need to be paid to the regulator. For sports betting, it's 25 percent of gross bets, while the integrated resorts also need to pay more for online bets than they do on their land-based offering, with tax as high as 47.5 percent for casino games, up to a certain level of GGR and 47.5 percent for virtual sports and RNG games.
The biggest issue facing the industry however, is the illegal gambling market, with the panelists urging for more to be done to crackdown. The current penalty for someone convicted of illegal gambling is one month in jail and a fine of between PHP2,000 to PHP6,000 and therefore stiffer penalties could be a starting point.
Rodney Hall, chairman of Bromhead Holdings, who was moderating the session, said he had heard that the incoming board of PAGCOR may begin to take a closer look at the payment solutions that players are using.
The panelists agreed there should be greater controls on the part of the payment gateway companies to ensure that they are only dealing with licensed operators and that more dialogue is needed between various agencies responsible for financial transactions.
With the change of government in the Philippines, will also come a new chair and board of directors for the industry regulator. The industry is planning to engage to move the PIGO ball down the field.