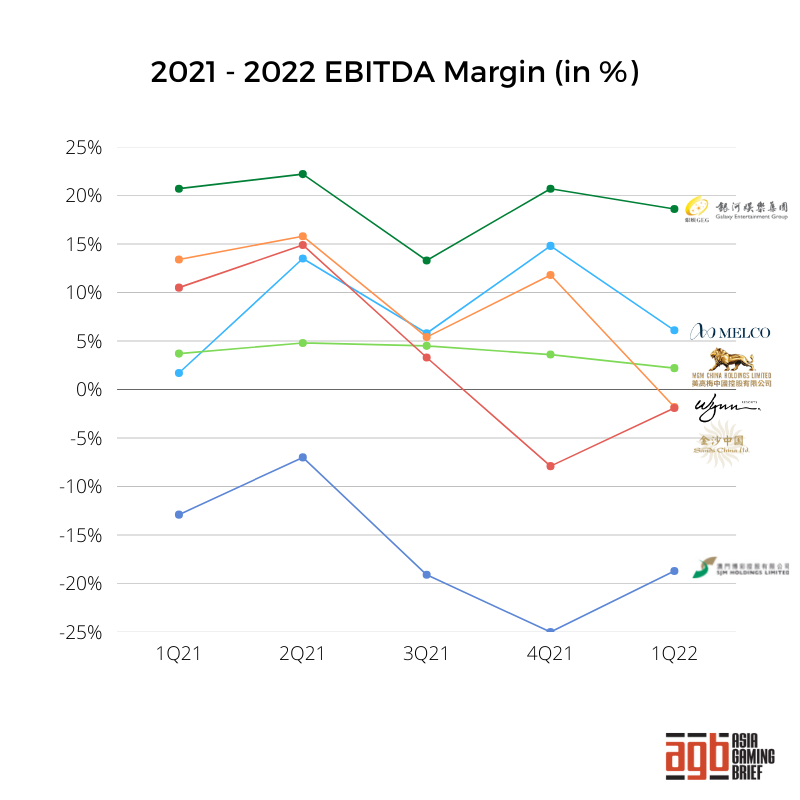 This week's infographic and write-up continues our in-depth examination of Macau's gaming industry performance in 1Q22, this time looking at EBITDA margins.
By examining the EBITDA margins of Macau's six gaming concessionaires from the start of 2021 to the end of 1Q22, we take a glimpse at how operators have adapted (or not) to an industry that continues to be gripped by the pandemic and related border closures.
The EBITDA margin is a measure of a company's operating profit as a percentage of its revenue. The metric is considered to be a good indicator of a company's financial condition as it allows for the comparison of one company's real performance relative to others in its industry.
If a company has a higher EBITDA margin, that means it's operating efficiently, with operating expenses kept low in relation to its total revenue. On the other hand, a company with a low, or negative EBITDA margin means that a company could be facing more operational difficulties.
Looking at the infographic, we see two stand out companies – Galaxy Entertainment Group and SJM Holdings, which are at opposite ends of the graph.
Galaxy's mass strength pays dividends
Galaxy Entertainment Group has consistently performed above its Macau peers, including several quarters in 2021 and 2022 that beat analyst expectations.
Earlier this year, Galaxy Entertainment Group became the first Macau operator to resume dividends after announcing a return to profit in 2021. At the time, J.P Morgan analyst DS Kim said the decision was a good gesture and reflected the strength of its balance sheet.
Last year, Morgan Stanley analysts noted that Galaxy has consistently outperformed its Macau peers on several key parameters including EBITDA, free cash flow, market share, cost reductions, net debt, interest expense and bad debt provisions from as early as 2020.
In 1Q22, the company again beat expectations due to strong retail and solid premium mass business in the quarter. Bernstein added that mass gaming performance had been "solid in a weak market", with the higher-margin mass making up for 83 percent of total revenue.
"Galaxy seems to have weathered the last 5 quarters better than the others generating strong positive EBITDA margin throughout," said Eric Coskun, director of casino projects at IGamiX Management & Consulting. "This is down to a combination of higher player reinvestment rate, stronger non-gaming offerings that have greater appeal to the latest visitor profiles and solid cost-cutting measures without a negative impact on level of service."
Coskun said Galaxy mass gaming cash drop has been consistently between $1.2 billion and $1.5 billion and slots handle has stayed above the $500 million mark each quarter since the start of 2021. This shows a resilient (compared to the others) mass gaming market where EBITDA margins are always much higher than VIP.
"Galaxy has always been one of the quickest to react to new market trends as well as capitalizing on a captive local market particularly on non-gaming offerings."
SJM EBITDA hurt by satellite closures, GLP opening
On the other hand, SJM Holdings saw vastly different 2021, being the only operator not to have returned to profit on an EBITDA level since Chinese visitation resumed in 2020.
"The company's continued cash burn in 2022 because of the persistently weak operating environment amid China's enduring Covid-19 restrictions, and the expected gradual recovery starting only from 2023, suggest that SJM's financial leverage will remain elevated over the next few years," says Sean Hwang, a Moody's Assistant Vice President and Analyst.
In 2021, the company reported an EBITDA loss of HK$611 million ($77.8 million) in the quarter, below analyst expectations. Its loss widened by approximately 37 percent to HK$4.1 billion despite business volumes increasing.
The company's financial weakness has been attributed to the costs associated with the Grand Lisboa Palace, which opened in July 2021. Last month, analysts from Moody's Ratings flagged concerns about SJM's weak cash flow and delays in refinancing its debt, downgrading its rating.
"At the other end of the scale SJM is heavily burdened with their new flagship property Lisboa Palace which on its own, is creating almost $1m per day in EBITDA loss," Coskun said. "Wynn looked to remain with the main pack until the Suncity arrests caused an almost complete end to the VIP sector and given their market positioning daily operational costs with limited revenue quickly took their toll."