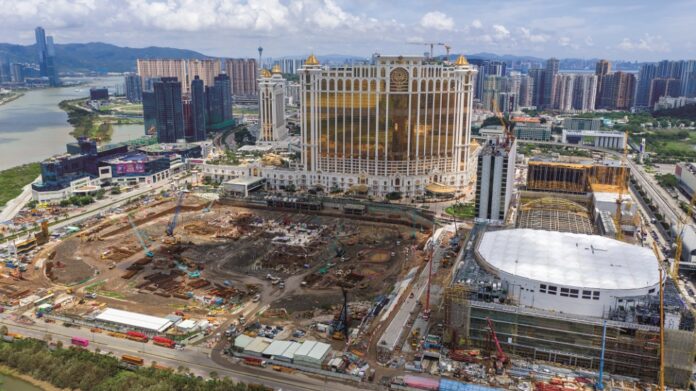 Galaxy Entertainment returned to profit in 2021 and announced a special dividend of HK$0.3 a share, which it says is a testament to its confidence in the future of the Macau market.
J.P. Morgan analysts DS Kim said this was the first resumption of dividends amongst Macau operators, which they say is a good gesture and reflects the strength of its balance sheet.
The group posted full-year net profit attributable to shareholders of HK$1.3 billion ($166.6 million), compared with a loss of $4 billion on that basis in 2020. Galaxy said the 2021 result, after adjusting for one-time charges, was $1.6 billion.
Revenue for the year jumped 53 percent to $19.7 billion. The group also said it benefited from luck in its gaming operations over the year, which had added about $253 million to adjusted EBITDA.
Total gross gambling revenue for the year jumped 51 percent from the prior to $17.3 billion, with mass GGR up 83 percent to $11.2 billion and VIP GGR up 11 percent to $5.5 billion. Galaxy said it suspended VIP operations in 4Q21 and is monitoring the regulatory situation.
Most of the operators in Macau suspended their junket operations following the detention of two of the most prominent figures in the industry, Alvin Chau, CEO of Suncity Group and Levo Chan, head of Tak Chun Group.
In 4Q21 revenue was 7.8 percent lower than the prior year at $4.8 billion, but rose 11 percent sequentially from the prior quarter. Adjusted EBITDA was $1 billion, up 3 percent year-on-year and up 107 percent quarter-on-quarter. JPM noted this was significantly above consensus and extremely respectable given current headwinds.
The special dividend will be paid on, or about, April 29th.
"This attests to our confidence in Macau, our financial strength and our future earnings potential," Chairman Lui Che Woo said in the earnings release.
He said the performance over the Chinese New Year holiday had also been strong, despite lower-than-expected visitation due to Covid restrictions.
"Gaming revenue was solid, driven by premium mass, hotel occupancy was higher and retail sales were strong," he said. "This is evidence of strong pent up demand for tourism and leisure in Macau."
Galaxy plans to push on with its expansion plans for Cotai Phases 3 and 4 and will continue to pursue its project on neighboring Hengqin island. It also said it's expanding its focus to study opportunities within greater China, including the rapidly developing Greater Bay Area.
It also said it is continuously exploring opportunities in overseas markets. In the short term, it said it had decided to reduce its presence in Japan due to the impact of the pandemic in the region. It dropped out of the running for a tilt for a license in Yokohama in partnership with Societe des Bains de Mer in May last year. However, it said it still sees long-term potential and will monitor development of the market.
Galaxy said Phase 3 is largely completed. Both of the latest two phases of development are focused on non-gaming, primarily targeting MICE, entertainment and family facilities, as well as gaming.
Phase 4 is "well under way" and will include about 3,000 high-end family rooms and villas, which will cater for the evolving premium segment of the market. This clientele is looking for higher quality and more spacious rooms, it said.
There will also be 400,000 square feet of MICE space and a 500,000 square feet, 16000-seat multi-purpose arena.
The rollout of new facilities will be contingent on market conditions.