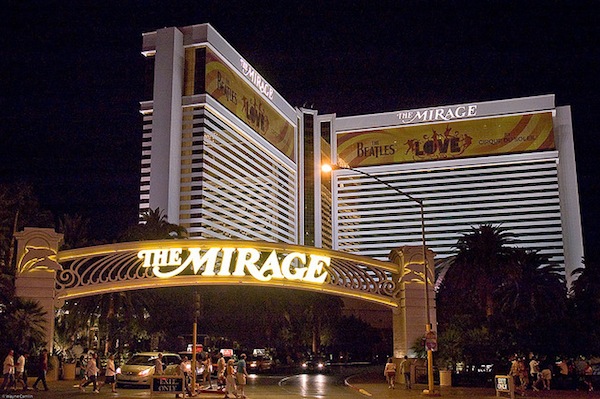 MGM Resorts' $1.07 billion sale of The Mirage Hotel & Casino was at a record multiple and reflected the bullish outlook for Las Vegas in what was a "winner, winner, chicken dinner" for all parties concerned, CBRE Securities said in a report.
The sale price represents a 17x multiple based on 2019 EBITDAR of $154 million and annual rent of $90 million. MGM will get about $815 million net and avoid at least $100 million in capital expenditure required at the Mirage, the report said. The buyer, Hard Rock International, gets a long-coveted asset on the Las Vegas Strip.
"This capex avoidance gives management additional flexibility to redeploy capital to higher-ROI initiatives or return additional cash to shareholders in the near term," analyst John DeCree wrote.
"Hard Rock brings a vision to return the Mirage to its former glory with plans to invest up to $1.5 billion. The beautiful thing about Native American capital is that it is generational and Hard Rock will be able to do this right without concern for short-term ROI hurdles, which is a positive for all of Las Vegas."
CBRE said the sale is also likely to benefit Caesars Entertainment, setting a new bar for an operating company valuation.
"We can't but help get excited about the prospects for CZR, which is planning to sell one of its Las Vega resorts in early 2022 and Wynn, which is sitting on what is arguably the most valuable casino resort in Las Vegas, if not the country."
While Macau has struggled to recover from Covid due to China's zero-Covid policies, gaming in the U.S. has surged due to pent-up demand, with Las Vegas also performing strongly.
"This transaction highlights the desirability of Las Vegas casinos and underpins our bullish outlook for the Las Vegas Strip," CBRE
The U.S. commercial gaming industry generated, including sports betting and igaming, generated $4.75 billion in revenue in October, the second-highest monthly level on record.
According to the American Gaming Association's revenue tracker, that figure is 4.8 percent higher than in September and 30.7 percent higher than prior to the pandemic. The October numbers were released on Dec. 9 with a month's lag.
The industry has seen monthly revenue top $4 billion for eight consecutive months this year. Prior to this year revenues had never exceeded $4 billion.
said.
MGM announced it was putting its iconic property on the block in November to reduce its exposure to Las Vegas.