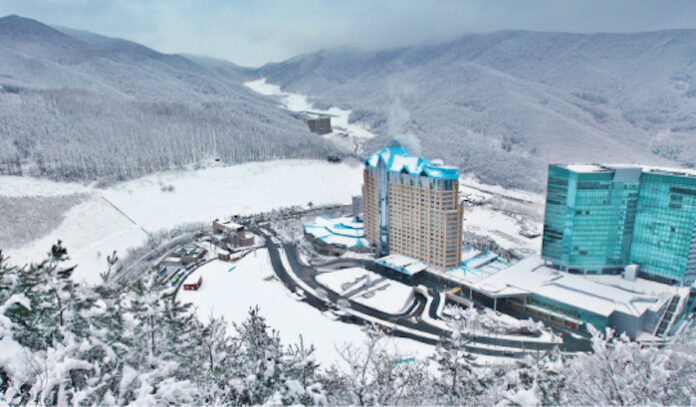 Kangwon Land, the only casino in South Korea where locals are permitted to gamble, reported a 6.3 percent decline in 1Q22 revenue as a strong performance in non-gaming failed to offset a decline in casino revenue from the prior quarter.
The company reported total sales of KRW226.9 billion, while gaming revenue fell 10.5 percent from the prior quarter to KRW192.2 billion. That figure was up 125 percent year-on-year.
Non-gaming revenue in the quarter jumped 26.8 percent to KRW34.7 billion, and was up 188.2 percent year-on-year. The operator's High1 Resort is a popular ski destination.
Kangwon Land's net loss narrowed to KRW5.8 billion, from KRW40.9 billion in the prior year period and KRW11 million in the final quarter of 2021.
In terms of gross gambling revenue, the company posted a gain of 116.6 percent from 2021 to KRW213 billion, but a decline from KRW236.9 billion in 4Q21.
Mass table revenue was up 146.8 percent year-on-year to KRW93.7 billion, while the membership club generated an 11.8 percent gain to KRW31.1 billion. Slot machines were up 171 percent at KRW88.2 billion. All three metrics were sharply lower sequentially.
The company indicated the lower casino revenue was due to restrictions being imposed to stop the spread of Omicron. Casino operating hours were cut to 12 hours December 18 and were only increased to 13 hours of permitted operations on March 5th. Operations returned to 20 hours in April.
Visitation gained to 356,923 compared with 303,341 in the final three months of last year. The number of foreigners rose to 2,611 from 1,715.