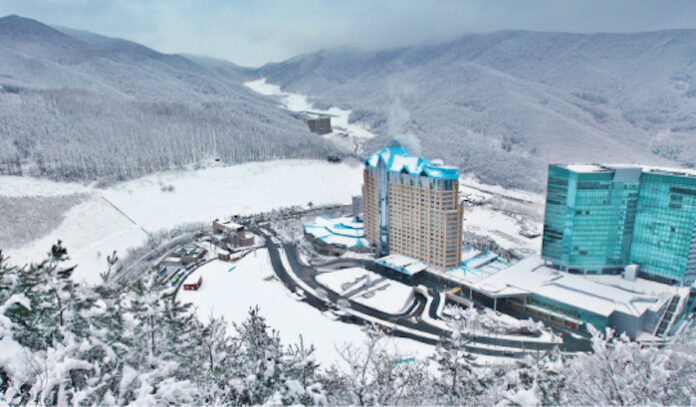 Kangwon Land, which operates the only casino in South Korea where locals can gamble, reported an 84.4 percent increase in 4Q21 revenue, with gaming sales steadily increasing throughout the year.
Total sales were KRW242.1 billion, up from KRW131.3 billion in 2020, but down 1.3 percent from the third quarter.
Gaming revenue was up 83.3 percent to KRW214.8 billion and was also 0.9 percent higher quarter on quarter. Non-gaming revenue was up 93.2 percent to KRW27.3 billion.
The company posted a loss for the period of KRW11 billion, which narrowed from a loss of KRW33.3 billion in 2020. In the third quarter, Kangwon Land was in the black to the tune of KRW20.4 billion, but down 15.3 percent quarter-on-quarter.
Kangwon said a phased return to normality had begun from the beginning of November, with the number of visitors permitted on the mass floors increasing from 1,800 to 3,000. However, further measures were reintroduced from Dec. 18th as the Omicron variant began spreading in South Korea. The resort's operation hours were reduced from 20 hours to 10 hours. 
Analysts from J.P Morgan said that while Kangwon's 4Q came in weaker than its forecast, the business has a clear path to normalize again once distancing curbs materially ease, given demand levels are always near-capacity with or without Covid.
"While timing is tough to pinpoint, we're cautiously hopeful to see gradual easing kicking-in soon with "with COVID" policy, as alluded to by authorities recently. This should enable KWL's profits to go back to pre-COVID levels (and some more, given its increased capacity) by 2023E."
Kangwon Land was permitted to allow locals into the casino at the High1 resort under a special dispensation to help the remote region's economy recover from the closure of coal mines in the area. The company in return has to pay into an abandoned mine fund. 
In 4Q21, it was forced to pay KRW30.8 billion, compared with zero in the same period of 2020. From January, 2021 the method of calculating the contribution was changed from 25 percent of pre-tax income to 13 percent of gross gambling revenue to ensure the payments are made even if the company isn't profitable.
The company recently said that its board had approved a plan to invest $23.7 million to expand and remodel its casino to allow for more social distancing. The size of the casino floor will increase from 14,053 square metres to 15,486 square metres. As part of the plans, the group will re-install 32 table games that were not in operation.
Under the re-modelling plan, a restaurant within the casino area will be moved to the third floor and the number of seats available will increase to 240 from 140.
South Korea's Ministry of Culture, Sports and Tourism gave Kangwon Land the greenlight for the expansion at the end of December.
Looking ahead, DS Kim of J.P Morgan said the the impact of reduced operating hours will weigh on the first quarter of 2022, estimating GGR to drop 25 percent quarter-on-quarter to around 50 percent of pre-covid levels.
"That said, we're cautiously hopeful to see gradual easing kicking-in soon with a 'with COVID' policy, as recently indicated by officials. While it's tough to pinpoint the timing, we think it's not impossible to see some easing from 2Q22 and into 2H22, which in our view could immediately drive KWL's revenues to pre-COVID levels, if not higher given expanded operating hours (+10%) and capacity (+10%) versus 2019."