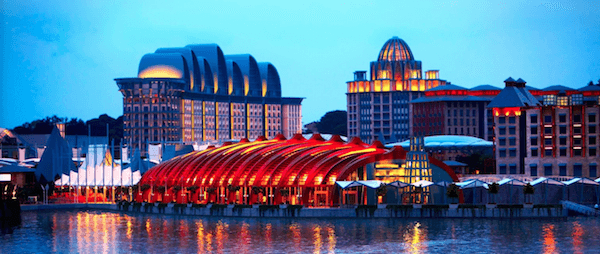 Genting Singapore has reported a slight 2 percent increase in casino sales from the final quarter of last year, indicating that the pent-up demand that had been driving recovery has largely stalled.
Most other metrics for the group showed a deterioration both sequentially from the prior quarter and from the same period a year earlier.
Gaming revenue came in at S$216.9 million, down 19 percent from a year earlier and up marginally from $213.5 million in the final quarter of the year.
Total revenue fell 32 percent year-over-year to $277.9 million and was down 12 percent from the prior quarter.
Adjusted EBITDA was $128.1 million, down 15 percent from Q1, which included a month of normal operational performance before the pandemic hit. Compared with Q4, adjusted EBITDA was down 39 percent.
Net profit was $34.5 million, down 26 percent on the year and 74 percent quarter over quarter.
Singapore's integrated resorts had surprised analysts by the strength of pent up demand and support from locals after the properties reopened. However, they had warned that the performance was unlikely to be sustainable without the resumption of international travel.
Hong Kong and Singapore are trying again to establish a quarantine-free travel bubble starting later this month after an earlier attempt failed due to a spike in new cases in the former city. Flights are currently reportedly sold out.
However, management is not optimistic of a broader reopening any time soon.
"While the global rollout of vaccines has begun, international travel continues to suffer from significant disruption due to resurgence of virus cases in several of our key source markets," it said. "It is envisaged that international visitor arrivals to Singapore, especially for leisure purposes will be unlikely to return in the near term."
In the meantime, the company is focusing on staycation events to continue to bring in local visitors.
Genting also said that it continues to revise the plans for its $4.5 billion expansion plan for Resorts World Sentosa. The design changes incorporate health and safety protocols, it said.
The company also stressed that it continues to push for a license in Yokohama, Japan.