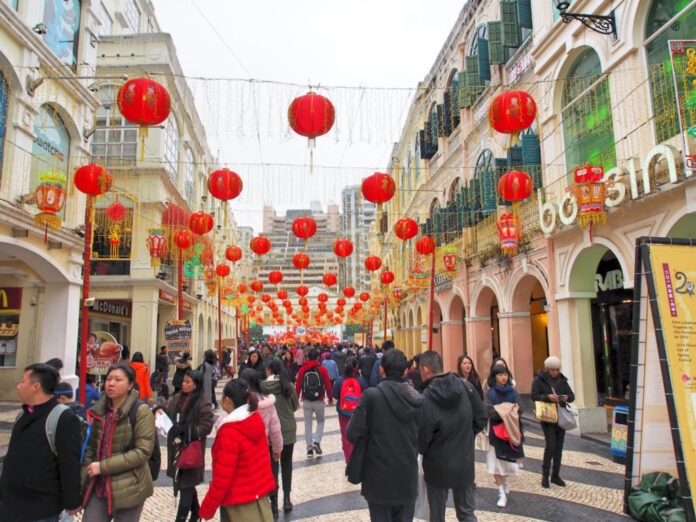 The head of the Tourism Industry Association of Macau says he predicts that the daily average number of tourists to visit the SAR in the future will stabilize at between 30,000 and 40,000.
Speaking to TDM Radio, the association head also predicted that hotel occupancy rates would also remain at between 60 and 70 percent.
This comes after Macau saw a strong rebound in tourism during Chinese New Year, with 318,038 visitor coming to the SAR during the first five days of the CNY holiday. The figure is a 314 percent annual increase, and followed in expectations for pent-up demand to drive vistiation during the holiday.
Aside from being a Chinese territory, Macau also benefited from travel restrictions being imposed by some nations, such as South Korea and Japan, on Chinese tourists, after a wave of COVID infections swept the nation coinciding with its move on January 8th to reopen and drop quarantine measures.
The association head said that the wave of tourists prompted 100-percent occupation in hotel rooms in Cotai, and 90 percent occupancy in Macau.
While mainland China continued to be Macau's largest visitor market during the CNY holiday, at 182,250 visitors during the first five days of the holiday, Hong Kong visitation also saw massive improvements, up 2,763 percent yearly, totaling 117,842 visitors.
Visitor numbers normally peak midway through the holiday, with some 90,391 visitors registered on the fourth day alone.
A further boost to increased visitation after the CNY holiday is China's move to authorize outbound tour groups starting from February 6th.
The move covers 20 countries, including Cambodia, Sri Lanka, the Philippines, Malaysia and Singapore, but notably does not include nations which had imposed arrival measures on incoming Chinese tourists after the nation opened up.
While the tour groups are expected to depart soon after the authorization, Macau's head has warned that tour group arrivals in Macau could be delayed for a while in order to lower the eventual prices of tours, following the CNY rush.