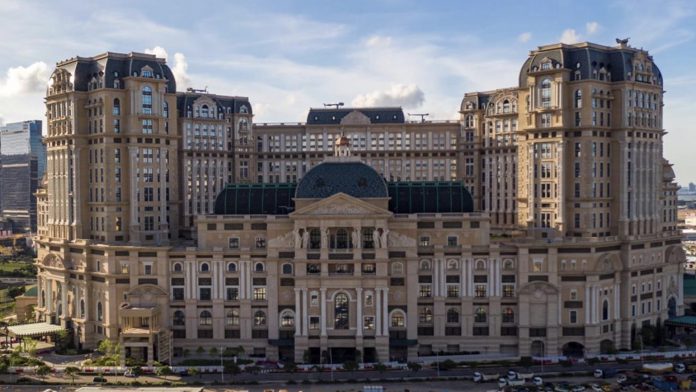 SJM Holdings' flagship integrated resort, Grand Lisboa Palace (GLP), is expected to record a positive EBITDA in 3Q23, according to the investment memo from Morgan Stanley.
Analysts from the investment bank shared their views after Macau gaming concessionaire SJM released its 1H23 financial results on Monday.
Equity analysts Praveen K Choudhary and Gareth Leung noted that GLP ran a positive EBITDA in July and August (month to date) with a GGR share of 2 percent, compared to 1.7 percent in 2Q23. The 2Q23 EBITDA loss for GLP narrowed by 73 percent compared to the previous quarter, reaching HK$62 million ($7.9 million).
SJM saw a total GGR increase of 9 percent month-over-month in July, while Macau's gaming industry GGR rose by 10 percent monthly from June to July. However, the research team observed that SJM's EBITDA improved by 48 percent monthly, implying a run rate at 60 percent of 2019 levels.
The bank also noted that SJM's mass market share increased to 13 percent, and with the exceptional contribution of satellite casinos, SJM holds 7.4 percent of the market share. The indicator also shows improvement.
According to Morgan Stanley's calculations, if the 2Q23 EBITDA is annualized, SJM could reach 40 percent of 2019 levels, while consensus estimates it at 50 percent of 2019.
SJM's 2024 consensus estimate is down 4 percent year-to-date and is close to 108 percent of 2019.
In 2Q23, SJM reported corporate EBITDA of HK$430 million ($55 million), standing at 43 percent of 2019 levels. Its net loss of HK$418 million ($53.3 million) narrowed by 51 percent from the first quarter of the year.
The same gaming operator recorded net gaming revenue climbing to $1.1 billion in 1H23, representing a significant year-on-year increase of 128.2 percent.
SJM had an 11.8 percent share of Macau's gaming revenue, comprising 14.9 percent of mass market table gross gaming revenue and 3.5 percent of VIP gross gaming revenue.