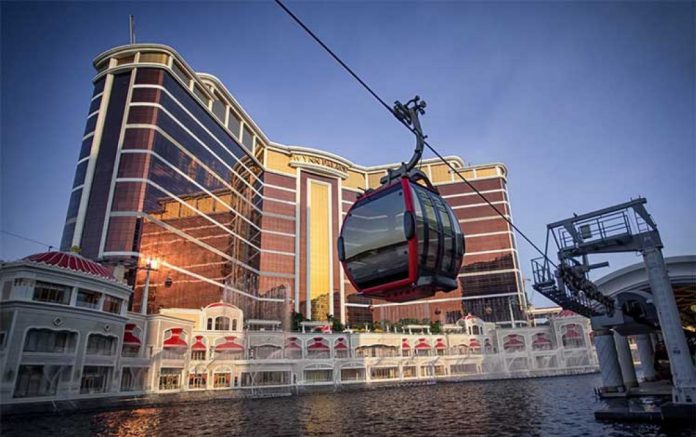 CBRE Securities has resumed coverage on global gaming stocks, saying it favours Wynn Resorts as a unique contrarian play and a potential special situations opportunity should it put its Macau assets up for sale.
The operator is seen as the most exposed to Macau's battered VIP market, but CBRE said its assets in the city are among the best and will be repositioned to be extremely competitive in the mass and premium mass market. The operator has the Wynn Macau resort on the peninsula and the Wynn Palace on Cotai.
The stock has been penalized for its perceived exposure to VIP, however, assuming it won't be able to compete in the mass market is flawed thinking, the report notes.
CBRE took over Union Gaming in June 2021 and temporarily halted coverage of gaming stocks. It has a "buy" rating on Wynn with a $120 price target.
The report said that Wynn has ways of creating value outside of Macau, but "if that doesn't work, we believe the highly coveted Wynn assets could finally be saleable with a complete changing of the guard following the departure of outgoing CEO Matt Maddox."
Craig Billings will take over from Matt Maddox, who is leaving to pursue opportunities outside of the industry, in January next year.
"With now a complete turnover in legacy management and a more opportunistic board, we could see Wynn begin to carve a new path and take advantage of the robust M&A environment as a buyer or seller."
Overall, CBRE says it's cautious on Macau, but not completely bearish, as it believes the longer-term growth drivers may remain intact.
Analyst John DuCree acknowledges that there is significant short-term uncertainty, due to regulation, the political landscape and the slow recovery from Covid. But says this will eventually all become clearer.
"When it does, mass-market is the way forward for Macau and we still find reason to be encouraged by the long-term secular growth story of penetrating deeper into China to access more mass-market customers."
Macau had 27.9 million visitors from Mainland China in 2019, which was only 2 percent of the total population. Outside of the neighbouring province of Guangdong, only 1.2 percent of the population had visited.
"The biggest catalysts for deeper mass-market penetration in China are infrastructure improvements and non-gaming expansion," the report said. "These two items will call for customers from further away and facilitate the travel necessary to visit Macau."
Ultimately, CBRE says these customers will stay longer and spend more across a variety of sectors, such as retail and entertainment.
The firm has a "buy" rating on MGM Resorts and a "hold" rating on Las Vegas Sands.