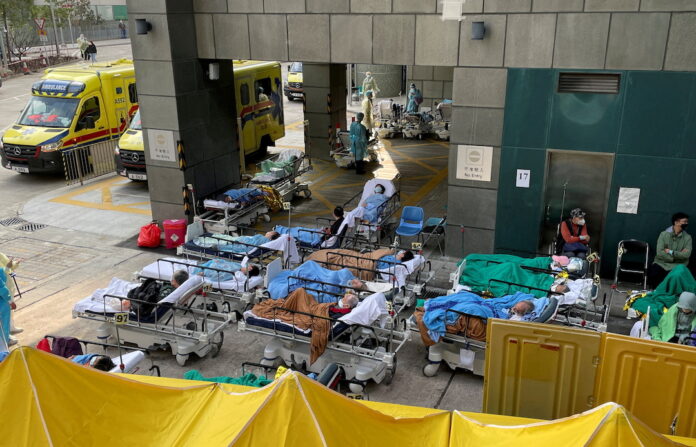 The escalating Covid crisis in Hong Kong has heightened the chance of wider outbreaks in the region and has likely derailed recovery prospects for Macau, leaving operators facing a third year of severely constrained gross gambling revenue (GGR).
The six concessionaires have pared back costs and all but one have managed to return to profit on an EBITDA basis, but will be unable to squeeze much more out of their operations due to Macau's rigid labor structure, says Ben Lee, managing partner at IGamiX Management & Consulting.
Hong Kong reported more than 55,353 cases of Covid on Wednesday, a record since the pandemic began and up from about 35,000 on Tuesday.
City authorities are planning three rounds of mass testing for all 7.5 million people later this month in an attempt to stop the spread, which has overwhelmed public hospitals and local mortuaries.
However, there is confusion as to how this will be carried out and local media has shown images of panic buying in stores as residents attempt to stock up ahead of rumored lockdowns during the testing period.
According to figures cited by Bloomberg, there have been 43,689 net departures from the city in the past two weeks, the most since the start of the pandemic. Bank of America Corp. analysts estimates 2 to 3 percent of Hong Kong's population could depart every month until the pandemic is past its peak.
It's these departures that appear to be raising red flags for authorities in Macau, amidst concern over the potential spread either into Mainland China, or the gambling hub.
Illegal entry concerns
Macau's Public Security Force has stepped up entry screening procedures and is monitoring abnormal entry and exit situations. Authorities also recently locked down 12 apartment blocks and are carrying out mass localized testing for anyone who has been near one of the key border checkpoints after a woman from Zhongshan who traveled frequently to Macau tested positive.
All of this has put a dent in optimism for any kind of meaningful GGR recovery this year.
"It's a period of volatility and uncertainty," Lee said. "We don't see any drivers on the near horizon."
Speaking on a conference call with analysts, Melco Resorts & Entertainment CEO Lawrence Ho said he expected the revenue outlook in Macau to be "range-bound" again this year, as China, Macau and Hong Kong pursue their zero-Covid strategies.
"I think the Chinese policy is going to be very conservative this year with regards to opening up its borders. Even recently, we've seen how certain provinces view Macau as being close to Hong Kong and therefore the COVID outbreak in Hong Kong would somehow affect Macau, so honestly I don't have a lot of hope that group tours or eVisas are going to be normalized before the Hong Kong-China corridor."
Ho was referring to plans that were in place to establish a travel corridor between Hong Kong and Mainland China. These have now been pushed back, with analysts at Bernstein saying in a recent note that they see late spring or early summer as being the likely time frame for reopening as long as the situation doesn't deteriorate further.
Border opening between Hong Kong and Macau is expected to follow shortly after that with the Mainland.
Crimped GGR outlook
S&P Global Ratings is expecting GGR levels this year of only around 30 to 40 percent of those seen in 2019, compared with its prior forecasts for a rebound to 60 to 70 percent. That's very little improvement from 2020, when GGR was at 30 percent of pre-pandemic levels.
In the meantime, given the government's concern about employment and social stability, there's little more that the operators can do to reduce costs.
Macau's non-resident workforce has fallen by a third post-Covid and operators will be required to prioritize locals in their hiring going forward.
A total of 11,434 non-resident employees previously employed by the six operators as of the end of 2019 have left their jobs, but all of these were employed in the non-gaming side of the business, working in areas such as shops and restaurants.
It's been more of a challenge to reduce costs on the currently underused gaming floors, with dealer positions reserved for locals.
The operators "have not been able to optimize their local labor force as much as they would like, especially by transferring them to non-gaming positions," Lee said.
Staffing headaches
"Ideally, they would like to shift their dealers and in the past they have failed dismally. That is because the local labor force is highly protected."
Labor costs have long been a key issue for Macau's casinos. In the boom times, the inability to import labor to fill dealer positions as the number of properties ramped up created cut throat competition and pushed up wage expenses.
Commentators have also expressed concern that a lack of local talent may hinder Macau's ability to diversify its economy along the lines it anticipates, such as developing its financial services industry and medical tourism.
On the brighter side, the recent strong performance for GGR over Chinese New Year has reinforced the idea that the demand is still there once restrictions are lifted. However, it appears Macau will be playing the waiting game for a while longer.