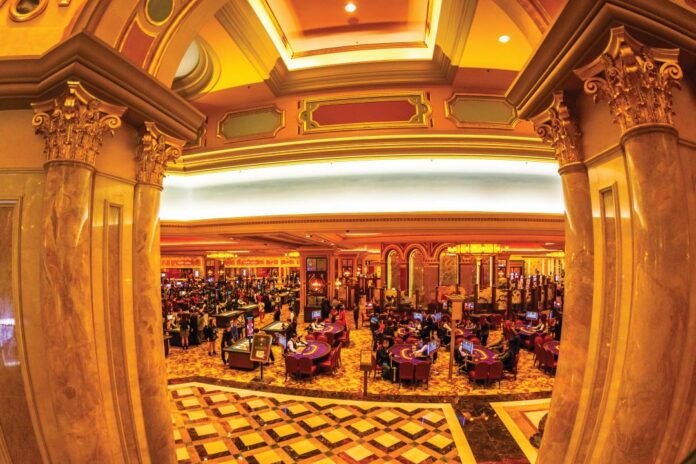 Macau gross gambling revenue rose 6 percent year-on-year in February, largely in line with analysts' expectations, helped by a strong Chinese New Year period.
GGR for the month was MOP7.76 billion ($964 million), according to figures released by the Gaming Inspection and Coordination. Bureau (DICJ). The market consensus was for a gain of 7 percent. It was the best monthly figure since the May Golden Week holiday in 2021, which was the strongest since the pandemic broke out.
Compared with 2019, February GGR was down 69 percent, while it was up 35 percent from January on a daily basis.
Macau's operators reported better-than-expected Chinese New Year results, even though visitation over the period missed government targets due to ongoing Covid outbreaks in China, requiring tighter testing measures for visitors to Macau. Arrivals are still required to have a negative test within 48 hours of arrival.
Wynn Resorts said it had seen encouraging signs of pent up demand from direct-VIP and premium mass players during the holiday, with mass drop and direct VIP rolling recovering to 60 percent and 88 percent of 2019 CNY levels respectively. While MGM China said its mass market gaming returned to 85 percent of pre-pandemic levels in terms of table drop over the holiday.
J.P. Morgan estimates mass GGR to have recovered to around 48 percent of pre-Covid levels, which it said was encouraging, whilst VIP (mostly direct VIP) was at around 5 percent.
Still, Bernstein said that since Chinese New Year, GGR had been weaker-than-expected as Covid outbreaks weigh.
The firm points to increasing risk on concern the virus will spread out from Hong Kong, which had a record 34,400 cases on Monday.
Bernstein expects March GGR to be down 74 percent from pre-pandemic levels, with an average daily rate some 21 percent down from February and warns that this is subject to downward revision if Covid results in more restrictions.
Given the situation in Hong Kong, which has historically accounted for more than 15 percent of Macau's, GGR, Bernstein doesn't expect the borders to reopen until late spring or summer at the earliest.