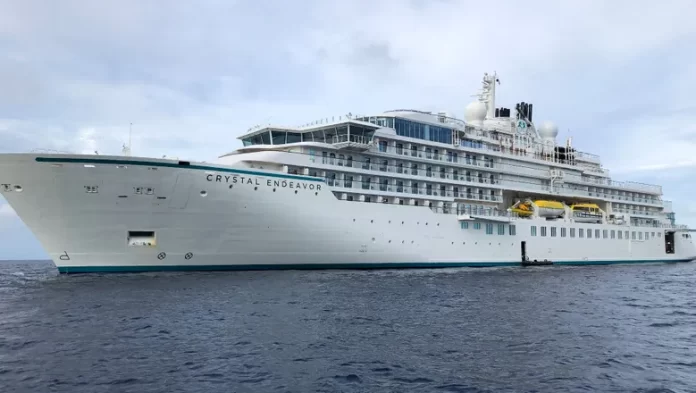 The Royal Caribbean Group announced that it will acquire the ultra-luxury cruise ship Endeavor, from Genting Hong Kong for $275 million USD.
Costing $385 million US, the Crystal Endeavor was delivered to Genting Cruises in July 2021, will be renamed the Silver Endeavor, when it joins Royal Caribbean's Silver Sea Cruises fleet in August.
Royal Caribbean financed the purchase of the vessel through a 15-year unsecured loan agreement through German Export Agency Euler Hermes. Royal Caribbean is aiming at taking advantage of the pandemic restrictions being eased on the cruise ship industry.
"The expedition cruising industry is poised to resume accelerated growth driven by demand among high-end, affluent customers for travel to remote and hard-to-access destinations," said Roberto Martinoli, president and CEO, Silversea Cruises. "This ship will be the fourth vessel to join Silversea's fleet since 2020, which demonstrates our commitment to growth," said Jason Liberty, president and CEO of Royal Caribbean Group.
Genting Hong Kong confirmed in an announcement to the Hong Kong Stock Exchange that it was withdrawing from the cruise ship business, after the appointment of liquidators earlier this year.
"Given the severe liquidity constraints of the Group, the primary duty of the joint provisional liquidators is to maximize value and returns of the creditors of the Company, and as a result of recovery actions commenced by a number of the Group's creditors, the Group's business operations have been significantly curtailed.
"In particular, the Group is not currently operating any cruises and the JPLs do not envision that the Group will be in a position to resume such operations in the future."
Genting confirmed in the note that insolvency proceedings had commenced in other jurisdictions.
"In addition to the above and for the same reasons, various non-core subsidiaries of the Group have also entered into insolvency proceedings in the relevant jurisdictions, including Australia, Hong Kong, Malaysia, Singapore and USA. the Group continues with its operations reduction exercise and the disposal of its assets."
In January Genting Hong Kong CEO Lim Kok Thay stepped down from his role after a petition was lodged in Bermuda to wind-up the cash-strapped operation.