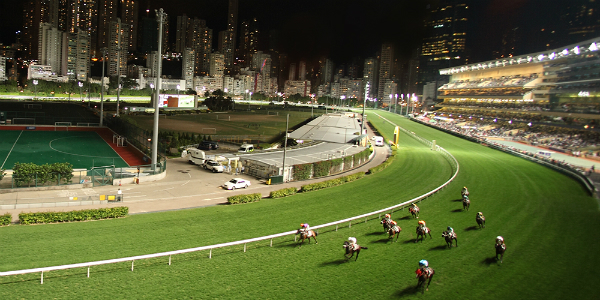 The Hong Kong Jockey Club said the government's decision to allow extra simulcast days during the summer racing lull will help curb the illegal gambling that has threatened to undercut its revenue in recent years.
The government will allow the club to broadcast 14 more days of racing from overseas meetings into Hong Kong, taking the total number of days to 37. 
It will simulcast during July and August, allowing people in Hong Kong to bet on races even though there is no local racing at that time.
"During the summer break of Hong Kong's racing, it is the peak season of overseas racing particularly in Europe, and the illegal and offshore bookmakers have taken advantage of this time gap to lure Hong Kong people to place bets on overseas races."
"As such, the approval of extra simulcast days in the summer will effectively address the existing illegal gambling issues while at the same time generate additional betting duty as well as charities donations, and create additional job opportunities which will benefit the Hong Kong community as a whole," a Club spokesperson said.
"In addition, the Club believes that the offering of simulcast betting on overseas races in summer will further strengthen Hong Kong as a racing hub. Racing jurisdictions worldwide will also welcome this new initiative for the promotion of globalisation of horse racing."
The HKJC has long been battling against illegal gambling, which it says has been growing at twice the speed of legal wagering, with an estimated $140 billion in illegal wagers placed each year.
The first quarterly bulletin from the Asian Racing Federation's Anti-illegal Betting Taskforce in July last year warned that the Covid-19 pandemic had exacerbated the problem. As sports and illegal betting was disrupted, the illegal operators were ready to fill the gaps. 
This was particularly prevalent in racing, as it was one of the few sports that was able to continue. The HKJC created a racing "bubble" and was able to hold meetings at its tracks throughout the year, though without the audience. 
As a result, the HKJC recorded its third-highest turnover ever during its 2019-2020 season at HK$121.6 billion (US$15.8 billion) through 87 local meetings and the simulcast of 164 overseas races.
While local betting turnover was down 8.3 percent, overseas turnover rose 25.3 percent to reach HK$23.5 billion, showing the value to the club of its simulcast and commingling programs.