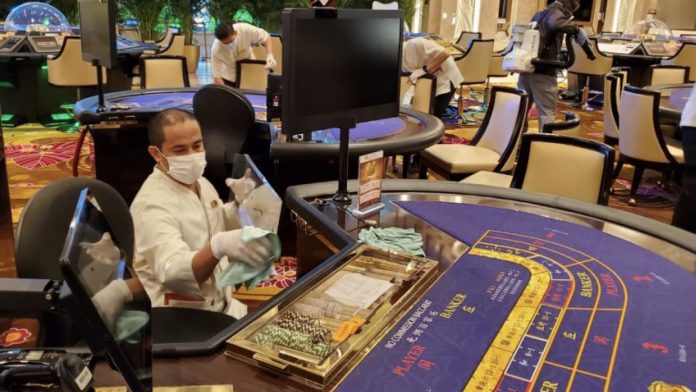 Macau authorities said on Thursday that a new scheme, which could allow visitors to come in from Hong Kong without requiring quarantine, might not include access to the SAR's casino floors.
The city's Health Bureau stated that this was one of the items under debate, along with possible limitations on visitor numbers from the financial hub and an application system for those wishing to visit Macau.
Currently Macau is only allowing tourists from China to enter – most of whom are not required to undergo quarantine.
No foreign visitors are allowed in the SAR, while residents of China, Taiwan, Hong Kong and Macau can enter the city, subject to different quarantine periods of up to 21 days.
The Macau government's stance so far on visitation has clearly been limited only to residents of Chinese territories, with no indications that the new scheme would allow entry of foreigners.
Macau authorities today confirmed a preliminary consensus had been reached with their Hong Kong counterparts, allowing for fully inoculated visitors from the financial hub to enter Macau.
Pre-pandemic estimates placed Hong Kong visitors' contribution to Macau's gross gaming revenue at about 10 percent, a figure that has dropped significantly due to the Hong Kong government's struggle to contain the spread of the virus in the city.
From January until May of this year, only 270,394 Hong Kongers came to the SAR, a yearly drop of nearly 59 percent.
Macau authorities clarified today that the new scheme would require visitors from Hong Kong to have received both doses of the coronavirus vaccine at least 14 days before their intended visit.
They would also require a negative nucleic acid test taken within 48 hours and a negative result from a test taken upon arrival in Macau.
This would give them a Blue Health Code designation, mandating the use of masks at all times and limiting their access to certain zones.
Whether gaming floors will be included in this access is set to be divulged 'at a later date'.
This 'blue' designation would prohibit access to pools, bars, karaokes, parties, or any place where masks were not in use, however a mask mandate is currently in place for all gaming areas.
Under the proposed scheme, Hong Kong visitors who had been in the SAR in the previous 14 days would not have to undergo the currently mandated 14-day hotel quarantine upon arrival in Macau.