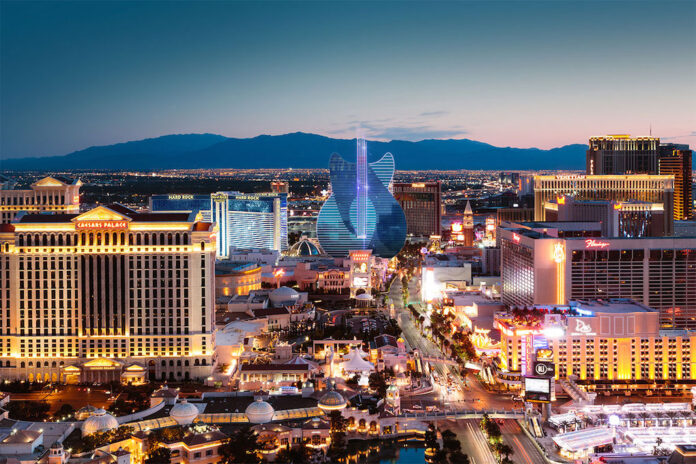 MGM Resorts International has closed the sale of operations control of the Mirage Hotel & Casino to Hard Rock International for $1.07 billion in cash.
Hard Rock assumed operations of the property on Monday, under a long-term lease agreement with VICI Properties.
The property will continue to operate under the same name until the 'renovation and rebranding […] is complete', something which Hard Rock has announced 'is anticipated to take an extended period'.
The revamp is expected to cost some $1.08 billion, expected to begin in late 2023 or 2024, and will include a 36-story guitar-shaped hotel – adding 800 to 1,000 new rooms to the former Mirage.
Overall room numbers are expected to increase to 3,640.
The remodel will also increase the number of gaming tables from 51 to 212, according to reports, with the casino floor nearly doubling, to 174,000 square feet. Some 1,164 slot machines are expected to also operate on the casino floor, whereas a new Strip-facing casino will feature 12 gaming tables and 200 slot machines.
The property's 3,500 employees have been absorbed by Hard Rock, with others set to be hired as it ramps up.
Hard Rock says it plans to release details of the 'rebranded and reimagined resort, its new features and attractions, and development timeline at the end of 2023'.
Speaking on the acquisition, Hard Rock International Chairman Jim Allen said "We are excited to create an integrated resort on The Strip that will make this legendary entertainment community proud."
Up until 2020, Hard Rock had no operational involvement with the former Hard Rock Hotel & Casino in Las Vegas, at the off-strip location. The company purchased the license and naming rights for it in May of 2020 and 'vowed to bring the iconic brand to the Las Vegas Strip when the right opportunity presented itself.'
Speaking of the new operational rights sale, MGM Resorts' CFO noted that the company planned to 'use the proceeds from this transaction to further advance our capital allocation strategy which includes maintaining a strong balance sheet, pursuing targeted growth opportunities and returning cash to our shareholders."
MGM is expecting that net cash proceeds after taxes and estimated fees will be approximately $815 million.