Analysts at Maybank say that the new momentum in the United States is proving highly beneficial for Genting Malaysia. The group points out the main benefit is the processing of three commercial casino licenses in New York state, which 'has resumed, which we gather favors' Genting Malaysia.
The New York State Gaming Commission (NYSGC) resumed the process of the commercial license bid on August 30th 'after more than six months of silence', note the analysts.
Maybank points out that 'we have long viewed Genting Malaysia's 100 percent-owned Resorts World New York City (RWNYC) to win 1 as it can deploy table games and generate additional tax revenue for New York State quickly, thanks to its existing infrastructure'.
Genting Malaysia operates the RWNYC, a 'downstate Video Lottery Terminal Facility' as well as holding a 49 percent stake in Empire Resorts World Catskills, 'an upstate commercial casino'. Resorts World Catskills, being located outside New York City is allowed to deploy table games, however RWNYC is not.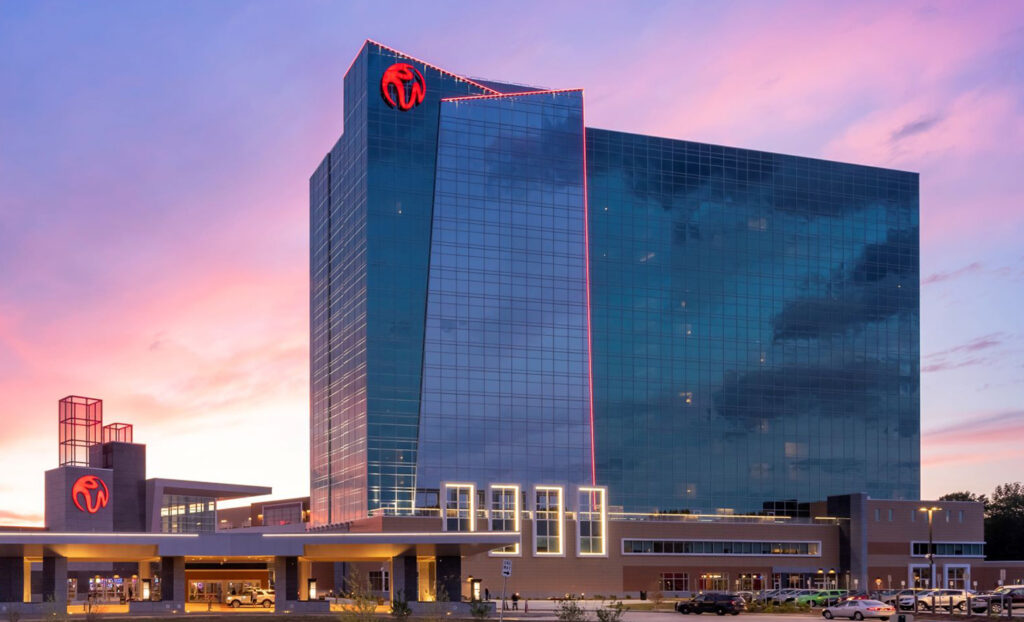 The group notes that 'A downstate commercial casino will be the 'ultimate prize' for RWNYC as it will be allowed to deploy table games and be located in or near New York City.'
Regarding potential gaming revenue, Maybank analysts note that 2019 GGR for the state of New York was $3.7 billion, while 2022 GGR of the five states surrounding New York was $14.1 billion.
'Suffice to say, the GGR of New York State and the states surrounding it is more than thrice the pre-COVID-19 GGR of Singapore (2019: USD4.5b),' note the analysts.
A downstate casino license would allow the group 'to capture some of the GGR that has been flowing from New York State to its surrounding states'.
The group is calculating that some 10 percent of the GGR from the surrounding five states will migrate to the new three license holders, 'amounting to $1.5 billion'. Assuming an equitable split between the operators, the group notes this would be $500 million per operator, which it divides over a presumed 250 tables it believes RWNYC 'can accommodate given its current infrastructure', meaning an average win per day of $5,500 'which we deem as reasonable given its superior location'.
The group now estimates RWNYC could generate 'an incremental net profit of $145 million if allowed to convert its video lottery terminal facility into a commercial casino.
However, the group notes it could up its estimates if it chooses to 'invest more in order to expand'.
Current estimates are for $500 million in GGR by 2025, rising to $520.3 million by 2029, with EBITDA going from $240.7 million to $250.7 million in the same years.
While Genting is listed as a frontrunner, it's also competing with MGM Resorts, Las Vegas Sands, Wynn Resorts, Caesars Entertainment, Hard Rock, and Bally's, amongst other silent bidders.
'We gather that the NYSGC will give a slight preference to the 2 existing downstate VLT facilities, MGM Resorts International's Empire City Casino at Yonkers Raceway and GENM's RWNYC', state the analysts.
'GENM even informed us that they have already built extra gaming floor area to potentially deploy table games via the new 400-room Hyatt Regency JFK at Resorts World New York hotel'.
Applicants are currently being scored based upon a breakdown of 70 percent economic activity and business development factors, 10 percent local impact siting, 10 percent workforce enhancement, and 10 percent diversity framework.
The Maybank analysts also note that Genting Malaysia is set to possibly benefit from the revamp of a tribal casino linked to the company, operating in Taunton, Massachusetts.