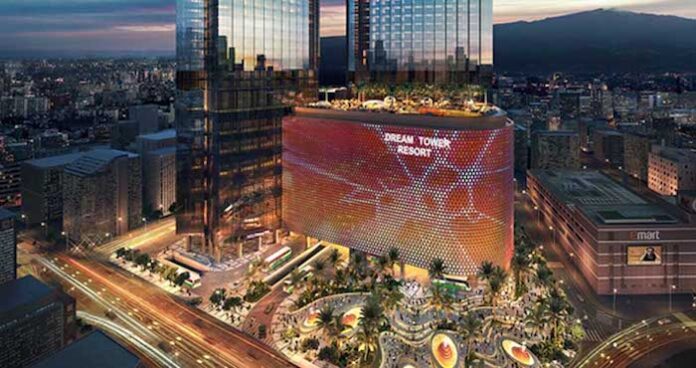 Lotte Tour Development has announced that its flagship Jeju Dream Tower, a KRW1.6 trillion (US$1.4 billion) project, is now completely financed.
The final pieces were put in place through KRW700 billion in mortgage loans, mostly through Shinhan Financial Investment and Korea Investment & Securities, as well as the issuing of KRW100 billion in convertible bonds to overseas investment institutions.
Of the total KRW800 billion that has recently been secured, KRW200 billion will be used for repayment of existing bridge loans, and KRW350 billion won will be used to settle the project costs for the area owned by Lotte Tour Development, which is 59 percent of total gross area.
This area directly owned by Lotte Tour Development includes 750 hotel rooms, fourteen restaurants and bars, the 38th floor skydeck, and, of course, the foreigner-only casino.
It has been a difficult few years for any company in South Korea to finance a project on such a huge scale, with Chinese tourism boycotts and now the Covid-19 pandemic, but Lotte Tour Development's success in this respect is thought to derive from the fact that many analysts believe that this tower, by far the tallest building on the island, will become an anchor point for Jeju tourism going forward.
The firm is eagerly looking forward to its planned December 18 grand opening, and it seems that hotel and restaurant reservations are already flowing in.