Paradise SegaSammy's Phase 2 development will include the development of a "Smart Racing Park," with Incheon International Airport, which is expected to provide a significant boost to visitation of the zone.
The Smart Racing Park is a theme park that will use advanced technologies, like augmented reality, to deliver experiences such as gravity racing.
The park will cover an area of 73,600 square metres and will also involve an investment of $71 million from a company named Monolith Incheon Park.
The Incheon International Airport Corporation said it expects the high-tech theme park to boost visitation by about one million annual arrivals a year once it's fully operational in 2025.
"I expect the smart racing park will not only generate new air travel demand, necessary for overcoming the current crisis but also provide overseas and Korean tourists with the innovative entertainment only available at Incheon Airport," Kim Kyung-Wook, President & CEO of Incheon International Airport Corporation was cited as saying in local media.
There was no information provided as to Paradise SegaSammy's input.
The Incheon area was envisaged as a leisure and entertainment hub, including multiple integrated resort projects. To date, only Paradise SegaSammy's Paradise City is operational, with other plans stalled.
However, in late November, Mohegan Gaming & Entertainment said it has put in place $1.55 billion in financing to enable it to move forward with its resort, which it now expects to open in 2023. 
The resort is known as Inspire Korea. The Phase 1 resort development includes three 5-star hotel towers, a 15,000-seat multifunctional professional performance arena, a foreigner-only casino, the largest convention facility in the Seoul metropolitan area, a world class retail offering, a year-round indoor water dome experience and a large outdoor thematic space, known as the "Family Park."
Mohegan said it now has the financing to complete the project. It has contributed $300 million in equity, with a further $275 million in equity from private equity funds. There is also a project finance loan of about $890 million from a three-bank Korean consortium.
Mohegan got permission to extend its construction deadline in April this year due to Covid delays, with the date for opening pushed out to the first half of 2023 from 2022. The company also tweaked its plans to include facilities such as an outdoor activity park.
At present the resort is 12 percent completed.
"We anticipate a significant rebound in the tourism and leisure industry following the pandemic, and we look forward to contributing to the Korean economy while at the same time opening and operating a successful, state-of-the-art resort. I'm thrilled to see our international vision for IR development reach this important milestone," said Bobby Soper, International President for MGE.
Mohegan recently said it was pulling out of the bidding for a resort in Greece to focus its resources on South Korea. Its plans to compete for a license in Nagasaki Japan were thwarted when partner Oshidori Corp announced it was pulling out, claiming the bidding process was flawed.
Another project in the Incheon Zone may be stalled indefinitely, with Chinese property developer, R&F Properties, saying in July that there was no clear path forward to completion.
Its partner, Caesars Entertainment, pulled out earlier this year and told analysts on a call that it had sold its investment for the price of some "barbecued pork."
Industry analysts are downbeat on the prospects for South Korea's foreigner-only casino market in the short term, due to the Covid crisis and doubts on whether Chinese tourists will return.
Mohegan in the past has stressed that its project will have a large non-gaming offering to which it hopes to attract clients from the Seoul Metropolitan area.
---
Jeju Dream Tower 3Q21 casino sales $10.3m
Jeju Dream Tower posted total casino sales of KRW12.3 billion ($10.3 million) in 3Q21. Lotte Tour Development, which owns the Jeju Island resort, said casino rolling chip volume was KRW171.8 billion, up 78 percent, while mass was up 22 percent from the same period last year. Total casino sales were KRW12.3 billion, with KRW4.3 billion for the VIP sector and KRW8 billion for the mass market. In the third quarter of 2021, the average daily number of visitors to the casino was 250, and the average monthly sales in the third quarter was approximately KRW 4 billion.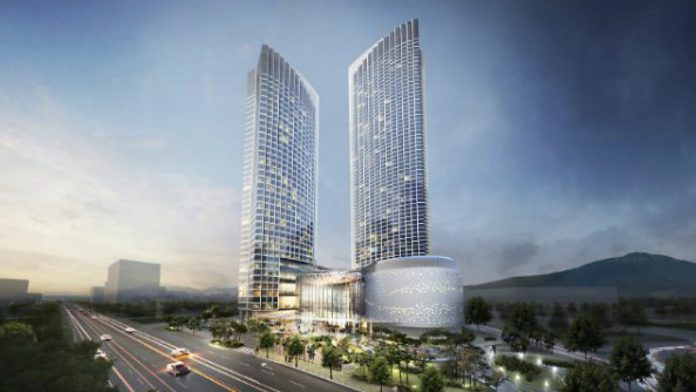 ---
Jeju Shinhwa pledges to mend staff relations
The operator of the Jeju Shinhwa World casino said it's no longer offering voluntary retirement, or asking staff to take unpaid leave and has instead agreed to work to stabilize relations between staff and management.
According to media reports, the local unit of Landing International said it stopped accepting leave and retirement requests on Nov. 22. The company had twice called for volunteers and received about 100 applications out of its 400 employees.
"Although the financial burden has been somewhat reduced through voluntary retirement, the operating company's financial difficulties are not in a situation that can be immediately escaped," the reports cited a company statement as saying.
"We are also aware that if self-help efforts through manpower reduction are prolonged, concerns of local communities about employee fatigue and corporate stability may increase."
The company came under fire from unions in October for pushing its staff to accept retirement packages and unpaid leave. The eight casinos on South Korea's Jeju Island have been hard hit by the crisis due to the closure of international borders.
Locals are not permitted to gamble and the casinos on the island do not have the same level of support from expatriates and Koreans with foreign passports as the properties in larger cities such as Seoul and Busan.