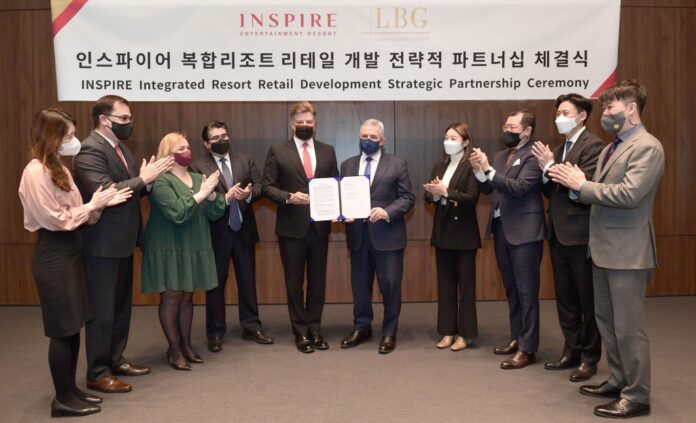 Mohegan Gaming & Entertainment's INSPIRE Entertainment Resort has teamed with the Luxury Business Institute Korea to develop a high-end retail strategy for the development. 
The Luxury Business Group is a consulting firm focused on luxury and premium industries in fashion, cosmetics, food and beverage.
"With the signing of a new business agreement between INSPIRE and Luxury Business Group, who are at the forefront of global luxury retail, we expect to set up a successful retail platform strategy and sales marketing for our luxury resort on Yeongjong Island," said Andrew Billany, INSPIRE's CEO. "This will not only give an economic lift to Yeongjong Island and Incheon's economy but also differentiate INSPIRE by offering high quality, curated brands and experiences throughout the resort."
INSPIRE is expected to open in 2023 in Incheon, close to the international airport in Seoul, one of Asia's busiest. Built over 461,661 square meters, the resort will be the largest in Northeast Asia.
The companies said collaboration between INSPIRE and Luxury Business Group will offer a one-of-a-kind travel and shopping platform that will cater to domestic and foreign travelers, casino visitors, and business groups.
Daniel Mayran, Luxury Business Group CEO and Bluebell Korea Chairman, said, "We are pleased to take part in the development of the retail space in INSPIRE, which will be the largest integrated entertainment resort in Northeast Asia. INSPIRE will become a major destination for retail and leisure, attracting overseas consumers fond of Korea as well as domestic consumers in constant search of new trends."
Mohegan earlier this week said it has restarted work on its Project Inspire resort in South Korea after completing financing in November of last year.
The company said the regulatory requirements are in place; the procurement of major trades and long lead items are in progress; structural steelwork and below grade utility construction are underway and infrastructure-related work, including utilities and roadways to the site is in progress.
Mohegan in November said it has raised $1.55 billion in financing for the stalled resort, which it now expects to open in 2023. The funding will be used for the Phase 1 development.
The U.S. operator said it now has the financing to complete the project. It has contributed $300 million in equity, with a further $275 million in equity from private equity funds. There is also a project finance loan of about $890 million from a three-bank Korean consortium.