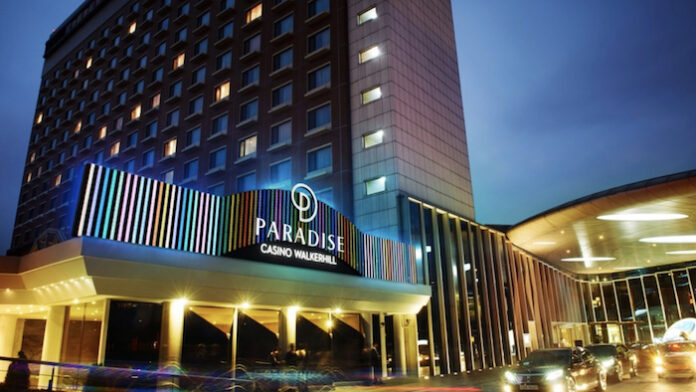 South Korea's foreigner-only casinos reported mixed fortunes again in October, with luck helping monthly revenue at Paradise Co. to double, while Grand Korea Leisure saw a slight decline from the prior month.
Paradise Co., which operates four casinos, said revenue in the month was KRW21.35 billion ($18 million), compared with just KRW9.34 billion the prior month. The figure was still only a quarter of the company's pre-pandemic revenue for the same month as continuing Covid restrictions continued to impact the casinos.
The company reported total table drop of KRW108.7 billion, up from KRW102 billion the prior month, with the hold ratio more than doubling to 18.1 percent from 7.7 percent in September.
The rise in table drop came entirely from the VIP segment, with China VIP drop rising to KRW4 billion from KRW2.5 billion, while Japanese VIPs contributed KRW2.1 billion. The "others" section was reported as posting drop of KRW68.8 billion, up from KRW62.1 billion. Mass table drop fell.
Paradise operates the Paradise City IR in Incheon, as well as the Paradise Walkerhill in Seoul, the Jeju Grand and the Paradise Busan properties. Walkerhill was the biggest contributor to revenue in the month at KRW15.7 billion.
Grand Korea Leisure's October revenue was KRW9.27 billion, down fractionally from the KRW9.41 billion reported the prior month and KRW11.1 billion the prior year.
The company operates the Seoul Gangnam and Seoul Hilton casinos, as well as the Busan Lotte Casino. The two Seoul casinos accounted for the bulk of revenue in the month, which was roughly evenly split between the two.
The October performance was a reversal of September's monthly trends, when Grand Korea Leisure reported strong gains and Paradise fell.
South Korea began lifting Covid restrictions from Monday in a shift to learning to live with the virus. Groups of up to 10 people are now allowed to meet in restaurants and coffee shops as long as six people are fully vaccinated. Most premises will be able to extend their business hours to round the clock, although those considered as high risk, such as clubs will still need to close at midnight. There will also be vaccine passports for bars and nightclubs.