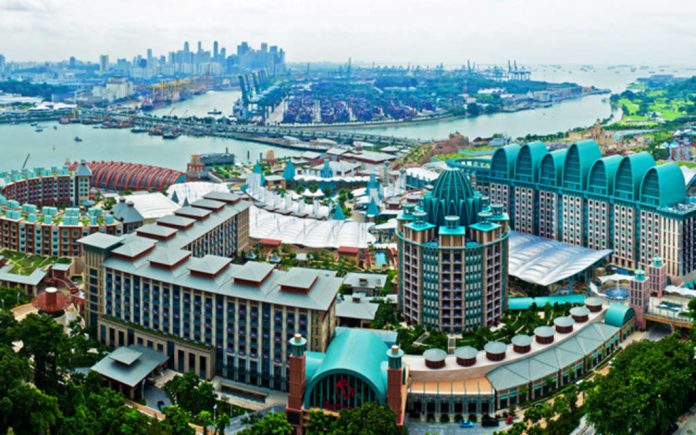 Genting Singapore requested that its stock be suspended from trading on Friday following news reports it had been approached by MGM Resorts over a potential investment.
The firm said it had made the request pending its response to queries from the Singapore Stock Exchange. Prior to the trading halt, the shares had gained more than 9 percent. 
Genting Singapore is the operator of Resorts World Sentosa, one of the two casino companies in the country. The Lim family controls 53 percent of the operation.
According to a report by Bloomberg, MGM Resorts recently approached the family to express an interest in a deal, although the discussions did not result in an agreement.
The report said other potential suitors have also been in the preliminary stages of studying the company.
J.P. Morgan analysts in a note, said there was likely no smoke without fire when it comes to the reports of potential bidders. However, it noted that there are potential blocks to a sale.
The deal will need approval from the Singapore Casino Regulatory Authority and the Singapore Home Ministry.
There are also two bonds issued by the parent company that use Genting Singapore to service the debt. One contains a clause that requires the Singapore company to remain as a unit of Genting and the second, which is related to Resorts World Las Vegas, says that a change in ownership will trigger an early redemption.
This points to the fact that a partial stake sale is more likely than a full takeover, the analysts said.
In theory, J.P. Morgan said Genting probably shouldn't sell a successful unit just as the industry is beginning to recover from Covid and visitation ramps up.
However, Resorts World Las Vegas has a $400 million term loan due soon and a partial sale could provide liquidity for two to three years.
"This also offers GENT a potential entry into Macau, the missing puzzle in the group," the note said. "Genting Group considered SJM nearly a decade ago, but the idea did not go beyond the CRA."
J.P. Morgan has an overweight rating on Gening Singapore stock.
Singapore was one of the first countries in Asia to reopen its borders and the tourism board is expecting a surge in visitors in the second half of the year.
Executives at Las Vegas Sands, which operates Marina Bay Sands, have said they are seeing enormous pent-up demand in Singapore.
On a call with analysts, Las Vegas Sands CEO Rob Goldstein said Marina Bay Sands was experiencing strong pent-up demand across all of its business segments.
Singapore is back, he said.
Genting Singapore posted higher 1Q22 revenue, both sequentially and year-on-year, though adjusted EBITDA slipped due to higher utilities expenses and the expiry of the government's Covid support measures.
Overall revenue of $314.5 million, up 13 percent from a year ago and 21 percent from the fourth quarter. Gaming revenue rose 8 percent from the same period last year to $234.4 million, while it was up 42 percent sequentially.
Adjusted EBITDA slipped 3 percent to $124.8 million.
The company said it was cautiously optimistic about the outlook given the reopening of Singapore's borders, but said it expects tourism to take time to recover given the lack of availability and high prices of airfares.
Singapore reopened its borders on April 1st and ended all remaining restrictions a few weeks later, including the need for pre-departure testing. Genting said it had seen an increase in footfall as a result.
The company is also pushing ahead with its $4.5 billion 2.0 expansion plans and said construction work on its new Minion Land themed attraction and work on expanding the Singapore Oceanarium (SGO) is scheduled to start this quarter.