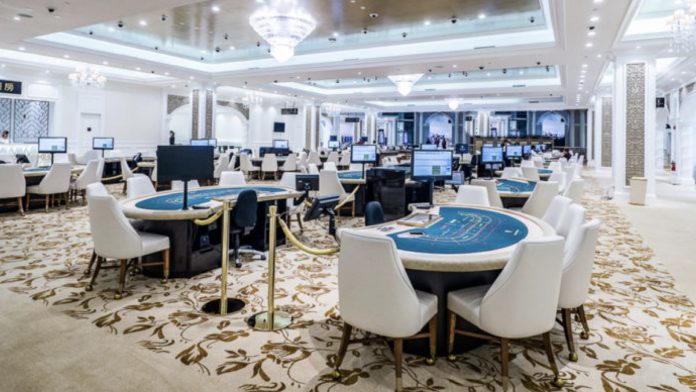 Imperial Pacific International gaming equipment is now on the block to raise funds to pay back a creditor, according to Clear Management, which has been appointed as a limited receiver in the process. 
The forced sale, which began this week, follows a lawsuit brought by USA Fanter Corp. The contractor was hired by IPI in 2019 to carry out construction work on its casino and hotel complex on Saipan in the Commonwealth of Northern Mariana Islands.
The U.S. District Court of the Northern Mariana Islands awarded the company $2.08 million in damages as a result of IPI's continued non-payment.
"Assets include top-of-the-range slot machines, and gaming equipment, including tables and chairs from the world's top suppliers," said Danny Ewing, Director of Operations for Clear Management. "As yet we are checking the inventory and the condition of the equipment but imagine there will be great interest from buyers world-wide."
According to court documents the assets have a value of about $2.25 million.
"There will be up to 6 auctions, conducted each month as we work through the inventory, the first of which is to be held on 30th November," Ewing said. "Details will be made available to interested parties through online and print channels."
The forced sale of its gaming assets is another blow for the casino operator, whose license has been indefinitely suspended due in part to failure to pay its licensing fees.
IPI has appealed to the Superior Court over the suspension, however, legislators are mulling whether to go one-step further and fully revoke the license of the Hong Kong-based operator. The resort is still under construction after facing numerous delays, while lawsuits are mounting from unpaid creditors.
On Monday, IPI said there would be further delays to the publication of its 2020 annual report and warned that it has slashed the value of property, plant and equipment of non-current assets.
It said the assets are expected to be impaired by not less than HK$4.46 billion. The carrying amount of the equipment is now put at HK$2.65 billion, as opposed to the $7.1 billion valuation given at the end of last year.
It blamed the order issued by the Commonwealth Casino Commission to suspend its license.
Despite the counts against it, IPI said it believes the business is still a going concern. It posted a narrower 1H21 loss of HK$359 million compared with a loss of HK$797.9 million a year earlier. It booked no revenue in the period as the casino has been closed since March last year due to Covid. It provided no explanation for the narrowing of the loss, though expenses were significantly lower.
One industry insider, however, doubts it can keep on unless it finds a takeover partner.
"Unless a white knight comes in, the place is unravelling," he said. "It owes an astonishing amount of money to creditors, no sign of their license being restored and the building is unfinished, no travel from China now or until when? Soon someone is going to drop the keys through the letter box and walk away."